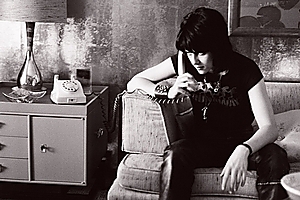 On a Monday evening in a seedy quarter of downtown Los Angeles, paparazzi and teenage girls are staking out Twilight starlet Kristen Stewart.
Word has leaked out Stewart is filming edgy new movie The Runaways, a biopic set in the 1970s chronicling the creation, rise and destruction of the all-teenaged girl band, The Runaways, with Stewart playing Joan Jett and Dakota Fanning as the group's lead singer, Cherie Currie.
A cat-and-mouse game has developed between the paparazzi desperate for a highly-prized photo of 20-year-old Stewart with Jett's trademark mullet hairdo and black leather, the teenyboppers desperate for Stewart's autograph and a beefy team of security guards and film crew members hellbent on protecting the actress.
While the strip of hole-in-the-wall nightclubs and bars where The Runaways is shooting is off-limits to the paps and autograph hunters, they found a weakness in the plan to protect Stewart.
A small alleyway, about six metres wide, separates the Spring St nightclubs and a large car park where Stewart's air-conditioned trailer and other cast members' trailers, are located.
The photographers and Twilight fans discovered the alleyway is designated public property and refuse to move.
To counter this, the security guards and crew members have armed themselves, but not with batons, guns, tasers or pepper spray.
They wield golf umbrellas.
Just after 8pm, Stewart, sporting the thick black mullet hairdo, dark make-up, leather jacket and tight jeans, emerges from her trailer, rendezvous with the security team and walks toward the alley. She keeps her head down as two security guards and two crew members hold up the umbrellas like shields.
The teenyboppers scream.
"Kristen! Kristen! Can you sign this?" a blonde-haired girl, aged about 14, holding a Twilight DVD screams.
The paparazzi pack move forward and jostle with the umbrellas, while Stewart walks swiftly with her protectors, keeping her head down and ignoring the fans and cameras.
Within 14 seconds she is on safe turf and shuffled into a dark, graffiti-riddled nightclub called Snot to shoot a scene.
The paparazzi look down at their digital cameras to check if they scored a clear shot, with some happy and others furious. The teenyboppers are shattered that Stewart, aka Twilight's Bella Swan, ignored them. Some of the girls leave disgusted, or fearful their parents will discover they are standing in a dusty, rubbish-strewn alleyway that on most nights is frequented by the homeless and drug addicts.
The paparazzi and autograph hunters who stick around get another shot. About 45 minutes later Stewart, her security crew and the umbrellas are back, walking swiftly after Stewart and Fanning complete the scene in Snot. Camera flashes blast through the umbrellas, but Stewart, her head down, ignores them again and escapes into her trailer.
On this night, AAP is invited into Stewart's world.
Stewart's trailer is strategically surrounded by other trailers so long lenses do not have a clear shot of the actress if she decides to walk out of her trailer and have a cigarette or chat to other co-stars.
While Fanning, Keough and Shannon freely appear for a chat, publicity-shy Stewart is not so forthcoming and as the night drags on, a set publicist confides Stewart may not be available for an interview.
Her personal assistant, however, confirms she will speak, but later.
"She loves Australians," the PA says.
Of course, Stewart's mother is Australian and she has a border-collie dog named Oz.
An hour later Stewart appears dressed in her Joan Jett gear - tight leather pants, leather jacket, white sneakers and puffing on a cigarette. Gone are her cute, Bella Swan locks, instead she sports a black mullet.
"It's not a wig," she says, rubbing the top of her head.
"I know a lot of people don't like it, but I do. I'd like to keep my hair this way."
It is almost 10pm and standing outside her trailer in the semidarkness, Stewart looks identical to a young Joan Jett. She puffs aggressively on the cigarette and her feet never stop shuffling.
The Runaways is a story she is devoted to tell and the young actress admits that it is hard for her to switch from a Joan Jett mindset and back to Kristen Stewart for the interview. She has also been promoting her Twilight films on days off.
"Sometimes it is hard. It is really bizarre," Stewart says of trying to stay in character.
"I'm in the middle of doing something that is so all-consuming, and then I have to go and do press."
But, Stewart is aware that for The Runaways to succeed commercially, she needs to spread the word about the movie, and the history of the groundbreaking band made up of rebel teenage girl rockers who blazed a trail for women in the male-dominated industry.
She hopes her huge fanbase of Twilight fans will be introduced to The Runaways' music and the story of how brash teenagers Jett, Cherie, drummer Sandy West, guitarist Lita Ford, singer/bassist Micki Steele and bassist Peggy Foster shattered stereotypes and created hits Cherry Bomb, Queens of Noise and Neon Angels.
"We have a responsibility to tell this story properly," she says.
"It can't be portrayed in a false light. It just can't.
"We have to capture the essence of it.
"This was supposed to be a small movie, but I guess with the Twilight success, there's a lot more attention to it so it is scary for me so I really want to do this right. Through making this, I have become close to Joan, and don't want to let her down."
Stewart says Jett is a legend.
"If you look at what she has done, it is amazing. After the band broke up she went off and created her own record label and became the first woman to ever do that," she says.
"She is the queen of rock `n roll. The Runaways started everything for chicks in rock `n roll.
"So many bands say 'I'm in a band because of The Runaways'."
After the interview, Stewart will run the gauntlet of paparazzi and Twilight fans across the alley and back to Spring St where the facade of a bar has been transformed to iconic 1970s LA nightclub, English Disco, run by legendary record producer and DJ, Rodney Bingenheimer.
The scene she will shoot is one of the most important in the film. It is when the idea for the all-teenaged girl band is created.
"In Rodney Bingenheimer's club, English Disco, is where it all began. It's an iconic setting," Stewart explains.
"It's when Joan meets her record producer-manager Kim Fowley. She boldly walks up to him and says 'I want to start an all-girl rock band' which at the time was unheard of. People didn't do that.
"But, they make it happen."
When the interview ends, Stewart retreats to her trailer to prepare for the scene.
I tell her to take care running the gauntlet of paparazzi and autograph hunters across the alleyway.
She laughs.
"It's ridiculous isn't it," she says.
The Runaways screens at the New Zealand International Film Festival
Today: 3.30pm at The Civic
Tomorrow: 9.15pm at The Civic
-AAP