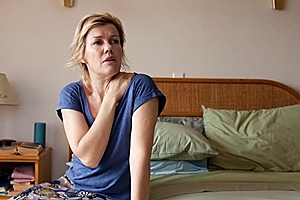 The first week of the New Zealand International Film Festival has been marked by heavy attendances to some surprising titles, say organisers.
They include Exit Through The Gift Shop, the documentary about British street artist Banksy, which festival boss Bill Gosden described as a "colossal hit" after its three screenings. Also getting great word of mouth among the docos was Bill Cunningham New York about the Big Apple fashion photographer, and the global economic crisis study Inside Job.
Films in the festival's retrospective programme, like the spaghetti western classic Once Upon A Time In the West had also surprised him with healthy bookings. Among the local films, the Sunday screening of the Howick family drama comedy The Hopes and Dreams of Gazza Snell had "gone off" says Gosden, while this Saturday's premiere of the Ponsonby tale The Insatiable Moon has already sold out.
Overall, advance tickets sales were up on this time last year, says Gosden, though the fine weather meant walk-up attendances were down so far - "we're hoping for some rain" - and he laughed at the unfortunate timing for the festival's main Spanish film.
Cell 211 was on Monday, the day Spain celebrated a win in the football World Cup.
Meanwhile, tickets are still available for this Sunday's screening of doco Teenage Paparazzo. It will be attended by director Adrian Grenier - who will be hosting a Q&A session afterwards.
* See TimeOut film critic Peter Calder's daily blog on the festival, "Watching Brief", here.