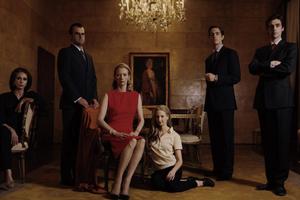 Tilda Swinton entered the Hollywood mainstream when she appeared as the White Witch in The Lion, the Witch and the Wardrobe. Her Oscar and Bafta-winning portrayal as a rival lawyer to George Clooney in Michael Clayton led her to roles opposite Brad Pitt in David Fincher's The Curious Case of Benjamin Button and in the Coen Brothers' Burn After Reading (with Pitt and Clooney).
Yet the British actress, who still cherishes her earliest avant garde film adventures with Derek Jarman, wanted to return to the European cinema she loves. So she threw her considerable clout into the Italian-language drama, I Am Love, focusing on a wealthy family of Milanese industrialists and a woman trapped in its elegant confines. No matter that she would have to play a Russian-speaking Italian or that she would have to help raise the financing for this high art film.
Even as she is about to turn 50, Swinton still needs a challenge. Most importantly though she wanted to work with the Italian-born Luca Guadagnino, her director on the 1999 English-language movie, The Protagonists, with whom she'd been developing the long-gestating project.
"Part of our being friends is our longing for a kind of cinema that might be dead and gone, but we feel like it might have a reclaiming," Swinton explains. "About 11 years ago we started cooking up this idea of a film with a strong emotional texture set in this kind of haute bourgeois milieu and we wanted to show the milieu and at the same time implode it. We talked a lot about Russian novels so we discovered a Russian woman in the heart of the story. We wanted it to be very casual and we wanted it to be about behaviour."
At an elegant family dinner that resembles something from Gosford Park - even if we are surprisingly in the present day - we are presented with the ailing Recchi family head, Edoardo Sr, celebrating his birthday and passing his business on to his son, Tancredi, and unexpectedly to his grandson, Edoardo. Tancredi and his wife Emma (Swinton) have two more children: a son Gianluca and a daughter Elizabeth. During the dinner Edoardo Jr. fatefully introduces his mother to Antonio, a chef and his potential business partner.
The film evokes the suffocating environment in which Emma lives and from which she eventually escapes with the younger man. "Tancredi's a great collector and he went to Russia and he came back with her," explains Swinton. "Emma has been his trophy for 25 years but it was a bad deal she made."
Though the quietness of her character was not something Swinton could particularly relate to, the actress had a great grandmother who lived in Russia and she says there had always been a Russian theme swimming around in her head, although she and Guadagnino were primarily focusing on this little-known segment of haute bourgeois Milanese society.
"It's not something that's often looked at. It's completely high capitalism sustained by the society and hidden by the society and we wanted to look at that texture. We also wanted to look at it from an alien's point of view, through this woman who has learned to completely disguise herself as the real thing. The whole drama begins with the inheritance question, the weirdness where nobody's being explicit about how this family became rich in the first place because they were made rich in World War II. And any domestic Italian family that became rich in the war ... "
It's perhaps no coincidence that Swinton, who came from the upper echelons of British society, should want to make a film about freedom or lack of it. Since her upbringing as the daughter of Major-General Sir John Swinton (the former head of the Queen's Household Division and Lord-Lieutenant of Berwickshire) and her attendance at the elite West Heath boarding school, where she was a contemporary of Princess Diana, she has long been a rebel. She went on to study political science and English literature at Cambridge before making her cinematic debut in Jarman's Caravaggio in her mid-20s, which sealed her future path.
She now lives in the Scottish coastal town of Nairn with her partner of five years, Sandro Kopp, a German-born artist 21 years her junior. She happily co-raises her 12-year-old twins Xavier and Honor with her ex, Scottish playwright John Byrne, who lives across the road with a new partner. Her children have never watched TV; she shows them movies instead.
As well as appearing in film festivals, Swinton is now helping stage them. The first was held over eight and a half days (in honour of Fellini's movie) in Nairn two years ago. "It was completely ad hoc and took place in this disused bingo hall which I rented," she explains. "We showed our favourite DVDs and charged people homemade cakes and if they dressed up in a certain way they could get in for free. It became a complete international phenomenon and the Scottish Government asked my colleague, Mark Cousins, and I to take a festival of Scottish cinema in Beijing."
Last year, she helped stage a mobile film festival in Scotland with a collapsible screen on the back of a truck which travelled from coast to coast.
"You're coming into a village in the highlands of Scotland that has never had a cinema and you're pulling Robert Bresson. It was fantastic!
"I first encountered a mobile cinema in Africa when I was there as a volunteer after I left school," she recalls. "There were these guys with one print of some old cowboy film and they used to go around the whole east coast of Africa for about a year. They'd put a sheet on a tree and play this terrible old crusty film and everybody came. That gave me the inspiration. We believe if you see a breadth of cinema when you're young that you learn to rely on it and appreciate it. We have access to all these DVDs now, so you don't have to wait for people to pull a cinema into your village."
Who: Tilda Swinton
Key roles: Orlando (1992), Blue (1993), Love is the Devil (1998), The Beach (2000), Young Adam (2003), Thumbsucker (2005), Constantine (2005), The Chronicles of Narnia: The Lion, the Witch and the Wardrobe (2005), Stephanie Daley (2006), Michael Clayton (2007), Burn After Reading (2008), The Curious Case of Benjamin Button (2008), The Limits of Control
What: I Am Love screens tonight at the Civic (7.15pm) as the opening night presentation of the 2010 New Zealand International Film Festival