Gina Mckee is nothing like the damaged women she portrays, writes Alice Jones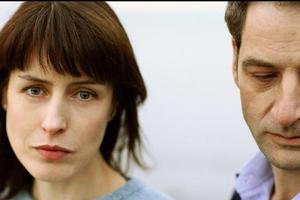 Elegant, alabaster-pale and with a measured murmur of a voice, Gina McKee is, initially at least, regally inscrutable. But every so often you catch a chink in the actress' unruffled exterior. More than once she breaks off from one of her thoughtfully evasive answers to say, with a hefty hint of Geordie, "blether, blether" or "I don't want to sound too poncy ...".
This ability to combine an ethereal star quality with that of a down-to-earth everywoman in her performances, which offer only the mildest of hints at the eddies of emotion swirling beneath a coolly restrained surface, have made McKee one of Britain's most respected actresses, having starred in Our Friends in the North and Notting Hill (she played the wheelchair-bound Bella). Her latest television role is in the hard-hitting BBC drama Fiona's Story, in which she gives a perfectly reined-in performance as a middle-class mother whose husband is arrested for downloading child pornography.
So does all this repressed emotion burst out of her when she stops working? "I was filming Mike Leigh's Naked and I was really immersed in it and enjoying the dark territory.
I went to a dinner party and one of my friends asked, 'do you not bring it home with you?' I said, 'no' and, at exactly the same time, my husband said 'yes'." She smiles ruefully. As a rule, McKee likes to keep the boundaries strictly drawn between home and work. Of her husband, she says vaguely: "He's been in the industry but he's not now. What's great is that he understands how it works." She's aware that she has previously come across as frostily guarded on personal matters. "There's a way of negotiating how you portray your private life publicly that I've never had the skill to do," she confesses. "In the beginning I was slightly clumsy about it."
Arriving in London after leaving school, she applied to and was rejected by three drama schools - but she soon landed parts in Auf Wiedersehen, Pet and Inspector Morse, but it was Newcastle epic, Our Friends in the North, adapted for television in 1996 with a cast including Daniel Craig, Christopher Eccleston and Mark Strong, that made McKee's name.
"On reflection, that did change things," she says, carefully. It was her big break, wasn't it? "I try to avoid, I don't know, something as definitive as that ...". In her Bafta-winning turn as Mary, McKee aged from 18 to 52. Now 44-years-old, does ageing concern her? "No. It's great being in your 40s. I feel like I've got enough history to learn from and enough future to enjoy."
Next up, McKee is playing a senior civil servant in In the Loop, a feature-length spin-off of The Thick of It in which the politicos travel to Washington and meet their US counterparts.
Having worked with pretty much every significant name in British film - Leigh, Richard Curtis, Michael Winterbottom (Wonderland) and, lately, Joe Wright (Atonement), does she hanker after a Hollywood career, like that of her erstwhile colleague Craig? "I'm chuffed to bits for Danny. But it's not an obvious comparison, is it? I'm never going to be James Bond, I've got to face that. But I've never put up geographic boundaries for my work. Plenty of people are going to put things in your way, why would I do that? I'm in a position where I can easily travel. I'm married but I don't have children so it's not like I have to stay for school and all that. But the whole big-time Hollywood thing, it's incredibly unlikely, isn't it?"
- INDEPENDENT
LOWDOWN
Who: Gina McKee
What: Fiona's Story screens TV One Sunday 8.30pm; In the Loop is screening at the New Zealand International Film Festival