Among the film festival's many offerings for kids is the latest work by Japanese animator Hayao Miyazaki. CALEB STARRENBURG profiles the master cartoonist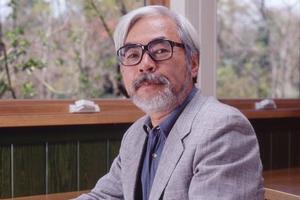 She is a tumult of fiery red hair, boggling eyes and gaping mouth. Her name is Ponyo, a painstakingly hand-drawn goldfish turned girl-child that could only be the work of master animator Hayao Miyazaki.
His films teem with fantastic flying machines, talking swine, carefree witches and floating cities. For two decades, the Japanese animator has been creating fables more visually appealing and imaginative than any of his contemporaries.
And though he may not be the household name that Walt Disney is, as far as Pixar's creative head John Lasseter is concerned Miyazaki is "the world's greatest living animator."
The director is unquestionably Japan's most successful film-maker. His 2001 Oscar-winning Spirited Away, about a 10-year-old girl trapped in a magical spirit-world, remains the country's top grossing film. There's even a popular museum celebrating the work of Studio Ghibli - the production company he formed - on the outskirts of Tokyo.
Miyazaki's latest, Ponyo on the Cliff by the Sea - or just Ponyo as it's being called Downunder - receives its local debut at the New Zealand International Film Festival. It arrives here after enchanting the Japanese box office, with over 10 billion yen (NZ$165 million) in ticket sales. It's testament to the director's burgeoning global appeal that the film's English language track has been recorded by rising star Noah Cyrus, sister of Miley Cyrus, and youngest Jonas brother Frankie.
Ponyo is a loose adaptation of Hans Christian Andersen's The Little Mermaid. It concerns an adventurous and magical goldfish who yearns to become human. Her decisions have unintended consequences, causing an imbalance in the natural world that unleashes a fierce tsunami.
Human's fragile relationship with nature is a theme occurring throughout Miyazaki's films, which often feature young heroines - there are rarely heroes - battling to prevent the annihilation of lushly animated landscapes.
Born in 1941 in Tokyo, Miyazaki's father Katsuji constructed parts for the Zero fighter aircraft; from him he inherited an enduring affection for aviation, and from his bed-ridden yet headstrong mother a penchant for strong female protagonists.
Miyazaki's formative years in post-war Japan left an indelible print on the aspiring comic artist. Though the director is notoriously reluctant to speak with the media, in a rare interview he gave to The Japan Times he explained, "A lot of people now are nostalgic for Japan as it was in the Showa 30s (1955-1965), but it was actually an unhappy period for me. Why? I was frustrated because nature - the mountains and rivers - was being destroyed in the name of economic progress."
Graduating from Gakushuin University with degrees in political science and economics, he joined the Toi Animation studio where he formed his longstanding creative partnership with Isao Takahata, director of Grave of the Fireflies. Together they released the landmark 1984 epic Nausicaa of the Valley of the Wind, about a kingdom threatened by toxic spores.
The film set the standard for Miyazaki's body of work: his sumptuous visual style and maniacal attention to detail. Remarkably, in an age dominated by the CGI wizardry of Pixar and DreamWorks, the director continues to draw each cell almost entirely by hand.
Forgoing the repetitive and kinetic approach of Japan's other high profile anime exports - think Yu-Gi-Oh! or Pokemon - Miyazaki's genius lies in his ability to create awe-inspiring moments that linger in your memory. Sometimes these are as simple as the swirling clouds in Kiki's Delivery Service (1989), about a young witch branching out on her own, or the glistening ocean in Porco Rosso, his 1992 film about a pilot transmogrified into a pig.
The New Yorker's Margaret Talbot, a Miyazaki-convert, says of the director's distinctive style, "He's very dedicated to realism in the service of fantasy, meaning that he makes little details internally coherent and naturalistic. There's a great deal of human warmth in his films and, in My Neighbour Totoro (1988) and Spirited Away in particular, nuanced attention to the psychology of children."
Despite his sober environmental concerns, Miyazaki's films are, at their core, about celebrating the wide-eyed enthusiasm of youth. He's even stated a belief that "children's souls are the inheritors of historical memory from previous generations".
As in Ponyo, however, Miyazaki displays a Roald Dahl-like understanding of the complexities of childhood. His films are more Charlie and the Chocolate Factory than Snow White and the Seven Dwarfs, and this perhaps accounts for his appeal across all age groups and beyond his country's own boundaries.
Dismissing any deliberate attempt to pander to an international audience, Miyazaki has said he makes films, "looking at the children in front of me." And though they might happen to be Japanese, he adds "If I can do that, I can create something with universal appeal."
Pick of the toons
Coraline 3D
(Henry Selick)
The creator of the wondrous Nightmare Before Christmas, here adapts Neil Gaiman's novella about a curious 11-year-old who finds herself in a parallel world using a mix of 3D and stop-motion techniques. The film is already a critical and box office hit overseas and festival director Bill Gosden describes it as "the year's most richly imagined Hollywood thrill ride". It comes with the voices of Dakota Fanning (as Coraline) , Teri Hatcher and French and Saunders, among others. The Auckland festival will be screening at the SkyCity Albany and Hoyts Sylvia Park 3D cinemas.
Mary and Max
(Adam Elliot)
Australian animator Elliot won an Oscar for his earlier short Harvie Krumpet and his debut feature employs his same painstaking claymation methods to tell the story of two unlikely penpals - young Aussie Mary Daisy Dinkle and middle-aged Jewish New Yorker Max Horovitz, who are voiced by Toni Colette and Phillip Seymour Hoffman respectively.
Animation for Kids
(Various)
A 70-minute programme of nine international shorts aimed at 3 to 7-year-olds. The films range in technique from computer animation to hand-crafted and tell stories, sing songs and feature the occasional sunbathing snowman, a determined penguin or two, a termite with architecural ambitions and one gentle Irish Crumblegiant. And for the cutting-edge grown-up stuff there's always the parallel compendium of shorts Animation Now!.
LOWDOWN
Who: Hayao Miyazaki, the animator's animator
What: Ponyo
When and where: Screening New Zealand International Film Festival, Sun 12 July, 1pm, and Tues 14 July, 10.45am, Civic Theatre.