Having caught the Far North at play in Kaikohe Demolition, local boy turned doco-maker Florian Habicht returned to film them fishing and talking about other important stuff. SCOTT KARA reports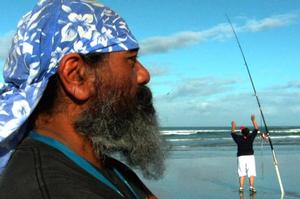 Asking a bunch of fishermen whether fish have feelings is a bold move and it's just one of the curly questions director Florian Habicht poses in his latest film Land Of The Long White Cloud.
Perhaps the best answer comes from Paihia's Neil Moody: "If you take a bag of fillets around to a mates' place he'll get the beers out. That's better than worrying about feelings."
As in Habicht's 2004 feature, Kaikohe Demolition, which delved into the lives of demolition derby fans in the Far North town, it's the characters like Moody who make his new film so intriguing, not to mention a hoot.
Land Of The Long White Cloud takes place at the Snapper Classic fishing competition at Ninety Mile Beach, just up the road from Kaikohe.
The Classic is run over five days and attracts hundreds of fishermen and women from around the country - although a healthy bunch of Northland locals star in Habicht's film - competing for the $50,000 first prize for biggest snapper.
"I had this idea about making the main character of the film a place," says Habicht, who was told about the fishing contest by his mum. "Ninety Mile Beach is such a wild beautiful beach and there's the Maori spirituality about the spirits travelling down the beach [to Cape Reinga]; I find that a beautiful belief."
He sees it as a sequel to Kaikohe Demolition and it was also about him getting back to having fun making films following the demanding nature of last year's Rubbings From A Live Man about eccentric performer Warwick Broadhead.
"Kaikohe Demolition was the sort of film where there wasn't one stressful moment in the entire making of it - and that's not usually possible. And after making Rubbings From A Live Man, which was quite intense, I just wanted to go and have some fun again up north with Northlanders."
As well as Moody we meet people like boisterous Rama Waipouri (a formidable fisherman), fishing diehard Ossie Perrie (who went eight years in a row without catching a snapper during the competition), and "Far North celebrity" and photographer, Wiremu Henare.
Henare rides his bike along the beach every day making him a Ninety Mile Beach icon.
"He's special. He's in his retirement and what a retirement, riding along the beach every day," says Habicht who rates Henare's photos as some of the best he's seen.
Habicht has the ability to build the kind of relationships with his subjects that makes them feel at ease and allows them to be themselves.
So we see the locals singing a celebratory Drunken Sailor out the front of the Kaitaia pub, as well as hearing these hardened fisherman open up about everything from the nature of love to whether they believe in an after life.
Another reason they trust Habicht is because most of them have seen Kaikohe Demolition.
"It's just about not being intimidating," he says. "And the film is shot on a camera that's not much bigger than the size of my palm. I guess I've learnt to shoot low-budget like that but make it look good and those cameras are now really professional and the quality is amazing.
"And when you get excited about what you're doing. You know, we would get up at 5am and drive an hour along the beach to where we were shooting and you just get high on the nature and that energy gets people in the mood."
Land Of The Long White Cloud is not just about catching fish. It also has a philosophical element and Habicht wanted to get across the contemplative nature of fishing.
He quizzes the people he meets about everything from where they were when Diana died, to whether they believe in God, to what they would do with the prize money.
The questions might sound random, but once again the answers are a filmmakers dream.
For example, what would Hamilton fisherman Justin Matangi do with the $50,000? "I'd buy some socks, some more hooks, and I'd have a long hard think about what to do with the rest."
LOWDOWN
Who:Florian Habicht (above), film maker
What: Land Of the Long White Cloud, a film about the Ninety Mile Beach fishing competition
Where & when: New Zealand International Film Festival, July 25, 2:30pm, Sky City Theatre