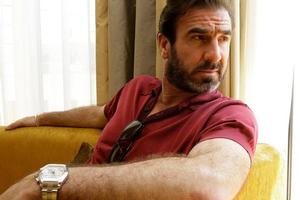 When soccer legend Eric Cantona appeared in his first starring role in the French film, Loutremangeur (The Over-Eater) he was almost unrecognisable as a lonely man in a fat suit.
It was a touching story little seen outside France. Perhaps its significance is greatest for being the film where Cantona, now 43, met his wife Rachida Brakni, 32, a star of French cinema and theatre, who would become his coach - in acting that is.
"I work a lot with my wife and she coached me very well," he smiles. "She gave me the confidence to enjoy it when I'm on the set, which is the most important thing."
Indeed it's quite a leap for a footballer to be taken seriously as an actor - Cantona follows in the less than salubrious sprig marks of Vinnie Jones - yet the charismatic former Manchester United player has been determined to progress from his cameo role in 1998's Elizabeth.
Cantona approached Ken Loach - the English director and Man U fan who usually deals in gritty social realism - with the idea to make a film about his relationship with his British fans.
After talking for several days with Cantona, Loach's screenwriter, Scotsman Paul Laverty, decided to make the film about Cantona's ability to be part of a team and to pass the ball, as he did in the famous Sunderland goal, one of his several career high points that make it into the ultimate film.
"As you see in the film, I like to pass like in life; I prefer to give a gift than to receive," Cantona explains in far from perfect English. "I love to receive a gift, to score of course, but when you give the ball to somebody you want to give the perfect ball. You want to give the ball that you would love to receive."
As he talks about his career in the film, where he is an apparition and an inspiration for downtrodden postman Eric, a Manchester United supporter, Cantona injects the film with his droll brand of self-deprecating comedy. "I like to laugh at myself. Humour is a good weapon," he says.
But playing himself presented a challenge. "I felt a lot of pressure with this shooting and I hadn't experienced that when playing another character. It's very important to have pleasure when you're in a film. I talked a lot with Ken beforehand as I needed to feel confident."
He compares working with Loach to his collaboration with Alex Ferguson, the Manchester United coach with whom he enjoyed such success. "They are two humble people who got me to give every bit of myself and who bring out the best in everyone," he says.
It seems to have done so - the film featured in competition at the Cannes Film Festival and it's likely to become one of Loach's highest profile movies.
As for stopping playing football at the age of 30, he says he lost his passion for the game. "If I find I lose my current passion for cinema I'll try my hand at something else, like jazz."
It wasn't as if retiring from football was easy. "In the beginning I didn't want to watch the game because it was too difficult. The urge to play football is very strong and after living with all that adrenaline, it's like a love story - when you break up with somebody, you don't want to see her because it reminds you of a lot of things. It was even more difficult because it was such a very strong love story I had with football, so I wanted to have new goals and ambitions and not go back to my past. It's very difficult physiologically because the adrenaline is very strong, it's like a drug in your body. So for two years it was very difficult not to have this kind of injection."
LOWDOWN
Who: Eric Cantona
What: Looking for Eric
Screening: New Zealand International Film Festival, Sun 19 Jul 3.45pm & Tue 21 Jul 10:30am, Civic