The 2009 New Zealand International Film Festival's programme of short films includes the debut film of a local filmmaker who has already won an Oscar and has a career in Hollywood. SCOTT KARA reports and casts an eye over the works of some other local up and comers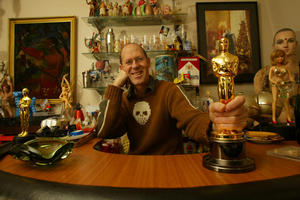 Grant Major has won an Oscar among many other awards and nominations, made films with Peter Jackson for years, and is currently in Hollywood working on blockbuster The Green Lantern.
Filmmaking has been the Auckland production designer's life for nearly 30 years, but it's only now he's got around to making his own movie.
While Undergrowth, a nine-minute short film on at the Film Festival as part of the Homegrown programme, is not on the scale of King Kong or Lord of the Rings, Major's chuffed to have done it.
"Writing something, directing it, and making my own story is bloody awesome actually," he says cheerily on the phone from Los Angeles.
He won his Academy Award in 2004 for The Return of the King, the final instalment of the Lord of the Rings trilogy, and then went on to work with Jackson on King Kong. It was after that, around 2006, he started developing the story and ideas he had for Undergrowth.
"So it was just a matter of getting round to it really. I've got a family to support and I make a living out of designing films, but you don't make any money out of directing short films," he says.
However, Major laughs that no matter what the film, it's pretty much the same process, only Undergrowth was made "on the smell of an oily rag" and his mates at Weta Workshop came in useful.
Undergrowth is the story of an agoraphobic man who wakes up to discover his life has become "overgrown". The film opens with a stunning shot of a decrepit old house entirely smothered with foliage.
Major says it's not autobiographical - it came about from a bunch of ideas and images that "popped" into his head.
"There are houses that you notice in the suburbs that are just so overgrown. You never see anybody come and go from them, or living in them. These sorts of houses have always intrigued me. So I just went on to imagine what it would be like to live in one of those places, completely internalised and enclosed."
The film is also about the busy nature of modern life, and the idea of making life-changing decisions.
"People do come to a stasis in their lives and you don't have to be a recluse to get to that point. Anyone can come to the point where, 'I've got to move on'. Often that can be really hard because you've reached a point where you have a lot of possessions, or commitments, and emotional hoohah, but one day you've got to opt for revolution. Do something about it."
For the man in the film (played by actor Ian Hughes) this moment comes when he opens the front door, hops in his car and drives - drawn like a magnet - to his childhood home.
There is a riveting series of scenes where he starts driving along the street, then into a bush clad park, and the foliage starts getting thicker until he crashes to a stop against a fallen tree.
"It's a progress, forward-moving moment in his life, where he has pushed himself forward, but in the end his agoraphobia - [symbolised by] all the weeds and jungle - catches up to him. His optimism turns to shock and horror about where he is."
There is no dialogue, which means it's left to Hughes to bring the film to life along with CGI special effects, sound effects, and a soundtrack written by Mike Hodgson from electronica duo Pitch Black.
"It was never intended to be a traditional narrative. It's an art piece, if you like and I've always liked David Lynch's work, where the visionary moments are more interesting than stories in a way."
Five festival shorts to see
The Six Dollar Fifty Man
(Mark Albiston & Louis Sutherland)
This delightful film was selected for the Cannes Film Festival this year. It follows the exploits of 8-year-old Andy, who has "superhuman" powers. Bullies beware, this young crusader can jump off school buildings in a single bound.
Mokopuna
(Ainsley Gardner)
Bullying, it seems, is a popular preoccupation this year. Meet Mary, a middle-class part-Maori girl, who meets a rough and tumble young Maori boy who is picked on at school. However, this young fella inspires Mary to take an interest in her cultural identity.
Careful With That Powertool
(Jason Stutter)
The follow-up to Careful With That Axe is another devilishly funny escapade, this time involving a young lad in a workshop with a skillsaw and a nail gun. It'll have you on the edge of your seat and flinching in fear.
Poppy
(James Cunningham)
A beautifully crafted CGI film based on the true story of two Kiwi soldiers who rescue a crying baby from the arms of her dead mother while behind enemy lines during World War II.
Lars and Peter
(Daniel Bergman)
Also featured at Cannes, this New Zealand/Danish co-production is about 9-year-old Lars whose mother has gone and who lives with his father, Peter, and older brother, Lasse. One night Lars witnesses his father's foolish indiscretions with their neighbour which makes him miss his mum even more.
LOWDOWN
Who: Grant Major
What: Short film Undergrowth screens as part of Homegrown, Friday July 10, 6:15pm and Saturday July 11 12:15pm at Skycity Theatre