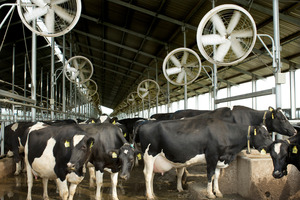 The trade gap narrowed last month, propelled by resurgent dairy exports to China.
Imports at $4 billion exceeded exports by $200 million but that compares with an average deficit of $769 million over the previous five Septembers. The annual trade deficit fell to $1.5 billion from $2.1 billion in the year ended August.
August and September usually represent the low season for dairy exports but Statistics New Zealand said last month both values ($900 million, a 52 per cent increase on September last year) and quantities were particularly high, led by an increase in exports to China.
"We have probably seen the worst of the drought's impact and volumes should probably pick up further from here over the remainder of the year," said Westpac economist Anne Boniface.
"There may well also be some more catching up to do on export prices.
"Even given the increase in September, the exceptionally high dairy prices achieved in recent GlobalDairyTrade auctions do not appear to have been fully reflected in the trade data yet."
ASB economist Jane Turner said a forecast payout of $8.30 a kilogram of milk solids, up from $5.80 last season, combined with a robust increase in production would boost dairy farmers' incomes by over $4 billion.
Exports of forest products were up 45 per cent on September last year but meat exports slipped 4 per cent.
On the inbound side, imports of plant and machinery were up 15 per cent on September last year (26 per cent higher for the whole September quarter) and imports of consumer goods were 4.2 per cent higher, providing some confirmation in the hard data to the strength of business and consumer confidence recorded in surveys of sentiment.