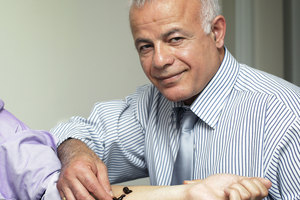 A leech therapist and his wife have lost their appeal against a court decision ordering them to pay back a A$150,000 loan they received from a dying Australian woman.
The woman, referred to in court documents as Ms Cato, died in October 2008 after developing emphysema. The businesswoman was described as having "a lifelong interest in alternative healing therapies", and had engaged the services of Mehdi Jaffari.
Jaffari and his wife Tracy had received A$150,000 (NZ$164,698) from Ms Cato in the year before she died, which she believed was a loan, the court documents said.
However, the Jaffaris argued that the money, which they received in two separate payments, was a gift.
Ms Cato's daughter Livia Grabowski took the couple to court, after her mother told her shortly before she died that she was "uneasy about the Jaffari's intentions to repay the loan".
A letter from Ms Grabowski's solicitors demanding repayment had been sent to the Jaffaris on the day her mother died.
Following an "intensely contested trial" at the District Court of New South Wales in 2011, the Jaffaris were ordered to repay the money, plus interest, as well as costs, in a sum totalling A$259,557 (NZ$284,991).
The Jaffaris appealed the decision, transferring the court action to New Zealand where they now live.
On Friday, the Court of Appeal of New Zealand dismissed the appeal, saying the Jaffaris had failed to produce new evidence that could be admissible, or establish a case of "fraud or any uneasiness" about the original judgement.
In the ruling, the judges said "the dispute over repayment should have been very simple but for the defences raised by the Jaffaris that, despite the clear terms of the loan agreement, the two advances were gifts".
Mrs Jaffari said they would be taking their case to the Supreme Court, despite the five years of trials putting the couple into debt.
She said the couple were continuing with the legal battle to the Supreme Court by representing themselves and believing in their appeal.
"We fight because we know, and at some point we want someone to listen to us," she said.
She said self-representing in court had been difficult, and she believed it should be made easier for people to go through court without counsel.
Ms Jaffari said Mr Jaffari had not used leech therapy on Ms Cato, but had instead been a spiritual healer to her.
Attempts to contact Ms Grabowski were made. Her lawyer said she was in transit on her way to China.
LEECH THERAPY:
Leeches have been used medicinally for centuries, from the medieval practice of blood-letting right through to the modern day.
Around 15 species of leech are used medicinally around the world, in a practice known as hirudotherapy, hailed for the proteins contained in their saliva, which have a local anti-inflammatory and anti-coagulant effect.
Leech saliva is believed to contain an anaesthetic, and it secretes enzymes which break down blood clots and widens the blood vessels to allow blood to flow more freely.
In medieval times leeches were commonly used for blood-letting, in conditions believed to be caused by having too much blood in the body, such as fever and inflammation.
Leeches made a comeback to modern medicine in the 1970s in micro and reconstructive surgery, where they are used to stimulate circulation to areas of skin grafts and other tissue after surgery where blood flow is restricted.
Mr Jaffari's website claims leech therapy can be beneficial for a range of conditions, from arthritis to cardio-vascular and lung problems. The site claims they can be used to help patients with pneumonia, hepatitis, stomach ulcers, genitourinary and gynecological disorders, skin disorders, glaucoma and infantile cerebral palsy.
The website assures potential customers that a leech is "never used to treat more than one person".
But it advises that people with AIDS or HIV are not recommended to undertake medicinal leech therapy "because it could put them at risk of bacterial sepsis".