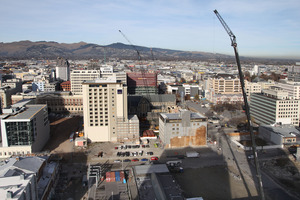 The earthquake damaged Christchurch City Central 'Red Zone'. Photo / NZH
A group of uninsured Christchurch red zone property owners are hoping a Court of Appeal ruling will pave the way for payouts valued at 100 per cent of their properties' 2007 valuation.
In a unanimous judgement announced today, the Court of Appeal found the red zone created in the aftermath of Christchurch's earthquakes was lawfully created, however the decision to make offers to purchase the properties from owners of vacant land and owners of uninsured improved properties was not lawfully made.
In particular, the offers did not engage with the purpose of enabling people to recover from the earthquakes, the court found.
The appeal arose from High Court proceedings by Fowler Developments Ltd and Quake Outcasts - an unincorporated body of 46 owners of uninsured properties in the red zone - challenging the lawfulness of the creation of the red zone.
They also challenged offers made to owners of vacant land and uninsured improved properties in the red zone for 50 per cent of the 2007 valuation of the land only.
The High Court had ruled both actions were unlawful, however the Court of Appeal has partially upheld the appeal of the Minister for Canterbury Earthquake Recovery and the chief executive of the Canterbury Earthquake Recovery Authority (CERA).
Quake Outcasts' lawyer Grant Cameron said the court's announcement was a vindication of their court battle.
"At the end of the day, now we've had two courts say that the offers that they were made were unlawful.''
The Quake Outcasts wanted 100 per cent of their properties' 2007 valuation, Mr Cameron said.
"There's no lawful justification for them to get anything else.''
Earthquake Recovery Minister Gerry Brownlee said he was pleased with the court's finding about the creation of the red zone.
"We also accept the court's view that in relation to vacant and uninsured improved properties on the flat land in Christchurch we now need to review whether our earlier decisions were consistent with the purpose of the Canterbury Earthquake Recovery Act.''
A review process would be developed over the coming days and submitted to the court, Mr Brownlee said.
Meanwhile, the legalisation of the red zone will end months of waiting for Port Hills residents, he said.
"We expect to have zoning review decisions conveyed to Port Hills property owners and publicly available by the end of this week.''
- APNZ