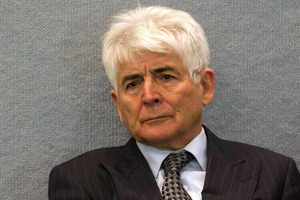 Lawyer Barry Hart is continuing his battle against being struck off, taking his fight to the Court of Appeal in Wellington.
Hart is seeking leave to appeal against the decision by the Auckland Standards Tribunal to strike him off after he was found guilty of three misconduct charges.
The lawyer's 46-year career in criminal law came to an end last year over the way he charged a vulnerable family.
He failed to turn up to his own Lawyers and Conveyancers Disciplinary Tribunal disciplinary hearing after seeking an adjournment and sending in medical certificates to say he was too unwell to attend.
The hearing went ahead, with the tribunal finding Hart guilty of three misconduct charges, including overcharging.
In June the High Court at Auckland rejected his application to take his case to the Court of Appeal after finding the appeal had no merit.
But Hart has appealed that decision today at the Court of Appeal.
His lawyer Paul Chambers argued via video-link that the tribunal's hearing should never have gone ahead without his client being present.
It should have "compelled" Hart and his doctor to appear, he said.
The tribunal had two medical certificates, which proved it wasn't Hart's intention not to turn up, but that he was unfit to attend the hearing, he said.
Mr Chambers also said there were other penalties open to the Standards Tribunal other than striking Hart from the register, including supervision or suspension - neither of which was not explored.
If those options had been implemented, Hart would have no recourse to appeal, he said.
The lawyer for the Standards Tribunal, Paul Collins, argued Hart was "disengaged" from the legal process by submitting the medical certificate at the last minute and not properly instructing his lawyer.
It was the tribunal's "duty" to proceed, he said.
"The tribunal acted entirely within the rules of natural justice."
He said there was no guarantee that Hart would co-operate with "oversight bodies" who would oversee a penalty of supervision, he said.
Hart was a one of Auckland's most high profile lawyers, with clients including samurai sword killer Antonie Dixon.
He was struck off the register after charging $1000 an hour while he waited for seven hours in North Shore District Court for his client's matter to be called. The appearance took a few minutes.
The bill for several appearances came to $35,000.
Hart also lost his multimillion-dollar properties northwest of Auckland after owing $30 million to the ANZ National Bank.
His companies Woodhill Stud and Woodhill Holdings were also liable for loans worth almost $16.2 million which must be repaid at a rate of 5 per cent interest per annum.
The justices have reserved their decision.