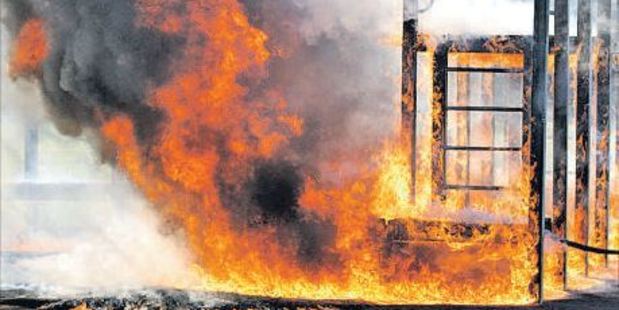 Stories making headlines around the regions today include a suspicious fire claiming a playground in Hastings and lanterns made by Rotorua children being stolen on the eve of the Winter Festival.
Rugby spectators sprinting to a suspected house fire in Hastings on Saturday instead found a school playground ablaze.
After an amazing night for the Rotorua community some local children were left disappointed after thieves stole their hand-made lanterns. But that didn't stop the fun.
Determined thieves broke through three gates to steal a logsplitter 200m up a farm driveway near Whangaehu.
Anthony Manley hopes people can help catch the culprit who threw paint over his family car.
It was a proud day for Whangarei as thousands flocked to see the official opening of the new $32 million Te Matau a Pohe bridge.
Hawke's Bay skywatchers are being advised not to get too excited when a fast-moving bright light appears tonight.
Ceejay Dennes, 10, started his 'Mop Chop for Poppa' fundraiser in support of his grandad who was diagnosed with terminal cancer. So far he has made $5000 for the Cancer Society Wairarapa.
Airbags saved the life of a man and a woman in a high-impact Kaimais crash that claimed the life of another man at the weekend
The Greenlea rescue helicopter was involved in a dramatic rescue of an alpine climber on Mount Ruapehu on Sunday. Check out the dramatic photos here.
Police in Oamaru say the culprits behind a ''silly'' attempt to derail an Oamaru Steam and Rail Society sightseeing train could face charges.
Two TV personalities have joined forces with Maritime New Zealand to encourage gung-ho fishermen to wear lifejackets.
It's been a year since Ashlee Edwards was found dead under a Whangarei bridge.
And finally, historian and academic Dr Paul Moon has slammed Rotorua's Maori tourism providers.
Other stories making headlines around the regions include:
Ambulance options assessed after busy period.
Family baffled by ghost buyer ownership claims
Gang abuse police at fire in Northland
Man dies without compensation from attack
Family offer up house for respite care