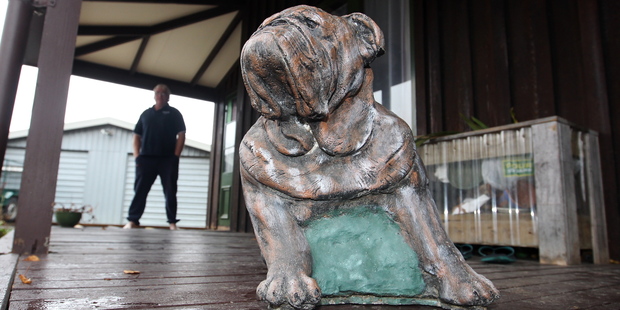 Stories making headlines around the regions today include a 7-year-old child who went on a rampage so violent at school that police were called and the school locked down, and the stolen statue made from the ashes of a stillborn child has been returned.
A 7-year-old went on a violent rampage at a Northland School leaving windows smashed and students shaken.
A stolen bulldog statue made with the ashes of a Flaxmere man's granddaughter has been returned.
Armed police cordoned off part of a major Tauranga road after reports of a man with a gun.
A Rotorua carer stole more than $2000 from a pensioner who trusted her with her bank card.
A Far North cancer sufferer just wants his property back.
Not only did someone steal a bike from a cycle tour guide, they then set it on fire.
The dreams of Tauranga yacht Squealer's crew of winning the Auckland to Musket Cove Fiji Ocean race have been dashed.
A lone grave marking the lives of 12 seamen who died in the Zuleika shipwreck of 1897 needs some TLC.
Pike Terewi knows exactly what he wants for his 70th birthday tomorrow - to wake up in the house where he was born.
A little girl lost for four hours on the family farm on Sunday was found after dark safe and well.
Dunedin's Buddhist community was out in colour to welcome the Dalai Lama yesterday.
Conservationists plea for dog owners to keep their pets under control when walking through kiwi reserve areas.
And finally, move over Gareth Morgan, a new enemy to feral cats has arisen in Dunedin - and she wants to form a "posse" to hunt them down.
Other stories making headlines around the regions include:
Region bracing for southerly blast
Horrific stock crash investigated
Vision of 2050 wins eco contest
Device keeps owners in the picture
Pupils mark 1886 Tarawera eruption