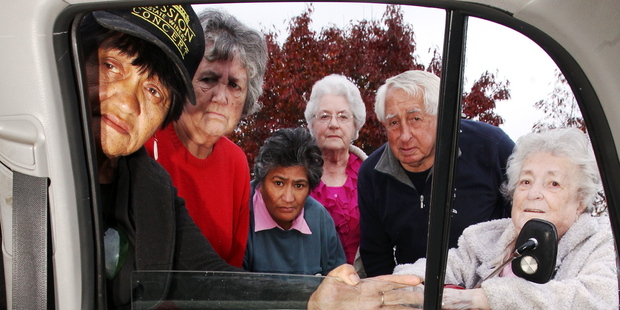 Stories making headlines around the regions today include an angry elderly group who feel unsafe in their own homes and a low speed chase that covered 100km.
A group of elderly Flaxmere residents have had enough of the "thugs" that rule the streets around their retirement village.
A man who allegedly had a large hunting knife and mask in his car led Whangarei police on a "low speed" chase covering about 100km.
Wairarapa's worst recidivist criminal has nearly 300 convictions.
Twenty motorists in the wider Hawke's Bay region have been billed a total of $106,869 for recovery of crash costs so far this year.
Shiny chrome wheels and powerful engines rolled into town for Wanganui Road Rodders' 40th Birthday Show 'n' Shine yesterday.
A Junior Bike Track complete with traffic lights, roundabouts and traffic signs, will be officially opened on Marine Parade in eight days' time.
Residents of a Tauranga suburb are boycotting their local dairy to protest the sale of legal highs.
Two teachers and 10 pupils had to be rescued in the Rock and Pillar Range in Middlemarch on Saturday.
This is why you should never leave cooking oil unattended.
Images of the wrecked engine from a Royal New Zealand Air Force Harvard brought back memories to Aubrey Bills, 60 years after his crash.
Performer Kiri Danielle is the new voice of announcements at the Rotorua International Airport.
Rotorua's Jordan Brannigan is New Zealand's best new radio show host.
And finally for the latest residents of Tait's Beach north of Napier the news could not have been better.
Other stories making headlines around the regions today:
Person killed in Ohakune fire.
Teaming up with Te Papa.
Local duo finish 10 month waka voyage.
Nine in regional finals.
Silence bliss after trucks given temporary re-route.
Gilmore messed with the wrong man.
Violence at Bay bars.