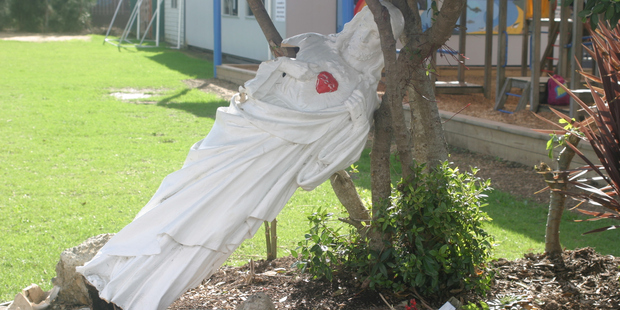 Stories making headlines around the regions today include the final closure of the embattled Frankton markets and the vandalism of a statue of Jesus in Kaitaia.

Despite vast public support to save the Frankton Markets, tomorrow will be their last day.
Vandals have damaged a Sacred Heart of Jesus statue after using it as a missile.
The Wellington Regional Council has been "blindsided" by a Hawke's Bay plan to take over its territory.

A bugler offered to play at Anzac Day only if he was paid.
Yesterday, three years to the day since his son was killed, Peter Madsen watched the Anzac Day service and remembered, much like the rest of the community.
Anzac Day was particularly special for Royal New Zealand Navy Lieutenant Commander Timothy Garvan.

Wairarapa's young people were praised by war veterans yesterday.
The more youth learn of the horrors of war, the more chances the world has to one day see peace.
While most children are busy attending school each day, the Northern Health School likes to do things differently.

Three New Zealand rugby stars have loaned their names to the Kidney Kids Foundation.
There are some lucky people in Whangarei and Dannevirke today.

And finally elderly people aren't feeling appreciated in the Bay of Plenty.
Other stories making headlines around the regions are:
Vigilance keeps fire costs down
Confectionary firm deal delights mayor
Fire at house suspicious

Man critical after reports of racing
Another sad day for Whirinaki

$60,000 payout for ex-gallery director

Big concerts build stadium's reputation as a top venue