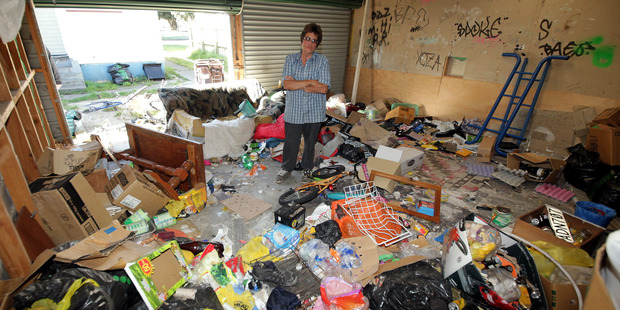 Stories making headlines across New Zealand at noon include a stunned landlord left with a damaged house costing thousands to repair and Tauranga tenants leave a house covered in dog excrement.
For the second time in as many months, another Wanganui landlord has been left with a house damaged and thousands of dollars out of pocket.
A house covered in dog excrement, missing light fixtures and curtains, holes in walls, and piles of furniture and rubbish are just some of the things Tauranga tenants have left landlords to deal with.
Teachers, support staff and local families marched through Rotorua to show their disgust towards a number of the Government's education policies, including national standards and charter schools.
Parklands residents are concerned the flood of rebuild workers and renters in the area are "disintegrating' the community and the value of their homes.
Swinging a hula hoop around her hips has helped Mary-Beth Acres shed more than 30kg of weight.
One-in-five Whangarei families receiving Government support are living in "a real state of poverty", a local Salvation Army worker says.
Lifeguards in Northland were involved in 74 rescues on the region's patrolled surf beaches over the summer.
Hawke's Bay residents are driving to bigger city centres to catch flights rather than pay hundreds of dollars more to fly out of the regional airport in Napier.
A Carterton mother is warning of the dangers of bullying after her son, 11, tried to strangle himself with a skipping rope to end years of torment over a disfiguring affliction.
A field of 140 white crosses - symbolising Waipawa servicemen lost in war - was targeted by vandals on Saturday night with about 25 of them ripped out and stolen.
More stories making headlines today:
Furry influx reaches overload
Urgent tsunami action demanded
Interview with Cleo Bachelor of the Year, Jordi Webber
Farewell for 'man with mana'
Kevin Page: They'll eat up my cooking show
Homes still bargain for local buyers
Editorial: If you don't like fast food, don't eat it
Shop owners say Frankton market has positive impact

-nzherald.co.nz