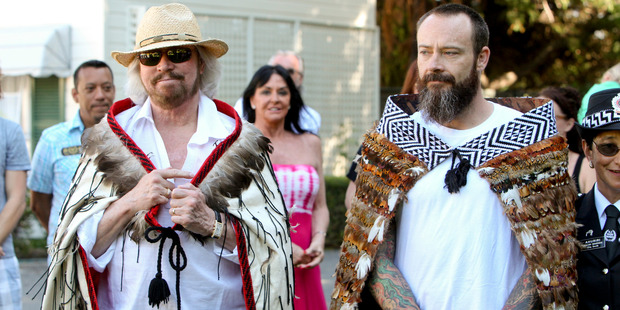 Stories making headlines in NZ at noon include an emotional powhiri for Bee Gee Barry Gibb and robbers who don't realise they're being watched.
Bee Gee Barry Gibb has had an enchanting and emotional welcome to Hawke's Bay.
Social media is becoming a powerful crime fighting tool for the police.
Smile robber, you are on candid camera.
Relatives looking after a toddler in Tokoroa only discovered he had been lost for many hours overnight when police knocked on their door.
A Te Puke woman has admitted stealing more than $54,000 in rent rebates over eight years after repeatedly failing to tell her Housing New Zealand landlord that she had a partner.
Prime Minister John Key has enjoyed an action-packed day in Rotorua.
Eight men with gang links have been arrested as police work with the Moerewa community to quell gang tensions in the town.
Here's a photo gallery of day one of Te Matatini.
Wanganui firefighters were this morning battling a blaze in the Heads Road area.
Climbing inside a bus crushed by fallen facades, and spending hours digging through masonry and bricks to find and free those still alive, is something Craig Titheridge has never forgotten.
Cantabrians marking the second anniversary of the deadly 2011 earthquake today can reflect on a city that has changed forever and is still evolving.
The drought on the West Coast is so bad that many are now on water rations.
Top trending topics on Twitter in NZ at noon were: #TimelessSingleCover, #edchatNZ, #PS4, Solid Energy, #NZRowingChamps2013, Google Glass, #AskZac, New Zealand, CHCh and TVNZ.
Other stories you may be interested in:
Hospital to blow out 100 candles
Farmers keen to make splash in raft race tradition
Wilson appears in court on parole breach
Careless cooking causing mayhem
Rare royal visit at Castlepoint
Two injured as car crashes by Masterton school
Trip from hell before start
Driver flees as teen dies in smash
Patrollers bold as brass, but not real officers