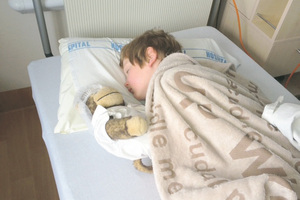 Stories making headlines across New Zealand at noon include a boy who has lost Dr Fitz, who "makes me not afraid when I go into operations", some crazies in Dunedin and a turtle who didn't appear to want the chance of freedom.
Sergeant Wayne Hunter has issued a missing person's notice for a toy monkey named Dr Fitz. Please help find him.
This group of crazies can't go to bed happy at night unless they've somersaulted over picnic tables, backflipped off trees, run up a few walls or leapt over the scary gaps between buildings.
The smallest of three turtles released at the Poor Knights Island seemed reluctant to leave his caregivers.
Three sons of anti-violence campaigner Hinewhare Harawira - and nephews of MP Hone Harawira - are facing charges over an assault on a 12-year-old boy.
A woman killed in a car crash in between Te Puke and Papamoa on Sunday was the former owner of a Rotorua restaurant.
A petroleum exploration company's drilling of a well at Whangara in near Gisborne to seek rock samples is on track to start this week.
Troubled All Blacks winger Zac Guildford is believed to be getting treatment for his drinking problems at an exclusive drug and alcohol recovery retreat near Ohakune.
Carterton school girl, Grace Ellen Diedrichs, 15, was remembered as a "Happy little girl, smiling all the time," by Solway Primary School principal Gail Marshall.
Not content with being notorious world-wide after his much-reported "Wogistan" rant, MP Richard Prosser is now cashing in on his infamy.
A Dunedin bar has paid to be invaded by British cricket fan club the Barmy Army.
Tracey Vickers-Anderson's blood boils each time she sees rubbish dumped along the coastline near Waianakarua Rd.
A Greymouth woman thought "it would be fun" for the patrons of Revington's Hotel to have a gallop around on a horse she rode to the pub.
Top trending topics on Twitter in NZ at noon were Richard Briers, #NZvEng, #nowplaying, ODI, Hekia Parata, #laugh, #ttrttpt, Auckland, New Zealand and Dinah.
Other stories making headlines across New Zealand and noon:
Far North battle royale election looming with John Carter
Whangarei man alleged to have hidden P in toetoe
Lake future looks clean and clear
Car rolls after plunging down bank
New claim: Beach rash cause is transparent jellyfish
Tax evader lands home detention
Psa brings bitter harvest of depression
No easy solution to fixing stench
- nzherald.co.nz