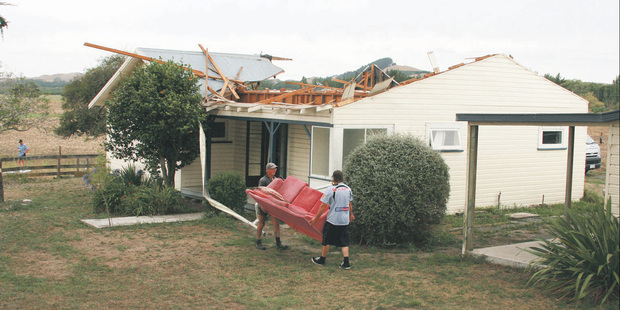 Among the stories making the news today: a nasty birthday surprise for a Hawke's Bay man and police break a drug dealer's complex code.
A Hawke's Bay man got a nasty birthday surprise when a mini-tornado ripped the entire roof off his home yesterday afternoon in a freak incident.
A Rotorua drug dealer described as the "go-to guy" has been convicted after his pig hunting code for methamphetamine was cracked by police.
A volley of six shotgun blasts have been fired at a Whangarei home, in what police believe could be a gang-related attack.
Central District police are taking their fight against crime online with the launch of a page featuring the most wanted in the region.
Waihi may have been in the news lately for all the wrong reasons but a tourist from Australia was amazed at the resourcefulness of a bunch of locals who managed to track her down to return a lost camera.
The family of Martinborough man Tupara Kiel are trying to get to the bottom of his mysterious disappearance.
Lachie Cotton's choice of sport is certainly not for the faint hearted.
In Mosgiel the town is apparently being plagued by 'grey racers'.

Topics trending on Twitter: #KeatonTakeOver #AustinMahoneChat #Emblem3Takeover

Other stories making the headlines around the country:
Teen tells judge he'll shape up
Your view: Noisy children or crying babies in cafes
Guildford can find a new home up north
Alleged Port Hills groper helping police with enquiries
Mystery over gas explosion in Whangarei
Rotorua hotel named among best in New Zealand
Gift fills shelves for Sallies


- nzherald.co.nz