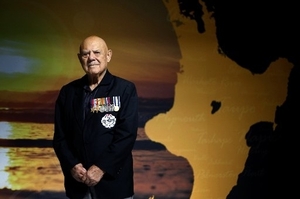 Stories making headlines across New Zealand at noon include 'scumbags' who are ripping off tourists and attacking Christmas trees, the last hurrah for a battalion of genuine Maori warriors and police are looking for a briefcase full of sensitive documents.
Young Austrian backpacker Daniel Wegscheider was away from his car for five minutes taking a picture of the sunset at Lake Waikaremoana when scumbags set upon his car.
Meanwhile vandals attacked Tauranga's community Christmas tree.
There's going to be one last hurrah for the 28 Maori Battalion. At 94, Arthur Midwood is the oldest of them and can show you the deep scar on his forearm from being shot while fighting Nazis.
Elijah Wood was really kind, said Wanganui girl Tessla Grunwald after her encounter with the film star on the red carpet. Apparently he was also short, like a Hobbit.
Somebody from the Tertiary Education Commission was wandering around Auckland with a briefcase full of top secret information when they decided to have a coffee.
People living in the Big Smoke are apparently more worried than the average New Zealander about the worldwide recession, Rising crime rates is the number one worry for people from Christchurch.
Caretaker Lochy Beckham is a winner and enjoys towing lots of enthusiastic kids around in a trailer behind his ride-on mower.
While it is commonly accepted Dutch explorer Abel Tasman was the first European to discover New Zealand in 1642, new evidence suggests this may not be the case.
Far North power users are getting a Christmas bonus.
Kiwi pop princess Ruby Frost will be heading off on a road trip tour this summer.
A horrid pong is apparently wafting over Tauranga's oldest residential area. Meanwhile offensive odours are also apparently coming from Tauranga's harbourside suburbs.
The Naked Bus company says its drivers are not allowed to use cellphones while driving. But apparently many tradespeople in Northland are talking and driving.
Juveniles had been involved in a "ridiculous" number of offences around the Whangarei/Kaipara district.
A Rotorua man was knocked unconscious and spent two days in hospital after he fell from scaffolding when it gave way
For many people, insuring against what "might" happen is not as important as budgeting for what "will" happen - like food and power.
Here's some video from the Pacific Culture Festival.
Carterton District Council has turned down another request by the Carterton Memorial Club to install a security camera outside the club in the CBD following a spate of vandalism, despite the club offering to pay for it.
The annual Inglewood Lions Christmas Parade promises to be bigger and brighter than ever this year. The theme of Stratford's annual Christmas parade this year was "a Futuristic Christmas". Here's some photos of futuristic floats.
The House of Horrors site in Aranui has cost ratepayers $100,000.
New homes in some coastal areas of Dunedin will have to be built up to 1.2m higher off the ground because sea levels are apparently rising.
The Mayan calendar predicts the world will end next month, but a bevy of brides is apparently set to appease the gods in Waitati tomorrow.
Meanwhile outside the Hillside Rd pharmacy in Dunedin, a member of the public noticed someone in a balaclava tying three staff members up.
It may be up to two years late, but thousands of items of mail will be delivered in Queenstown on Sunday.
Gary William Bell, 57, is a recidivist shoplifter with a drinking problem.
Meanwhile the popular Smeltinghouse Cafe in Greymouth is to close its doors.
Top trending topics on Twitter in NZ at noon were: #iVotedE3, iTunes 11, #xfactortv3, #edchatnz, #jaidropsipad, #Hot30Countdown, Sri Lanka, Movember, New Zealand and Christmas.