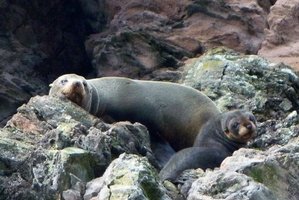 Stories making headlines across New Zealand at noon include large numbers of dead octopi rotting on the Dunedin coastline, crazy people taking polar plunges and Queenstown appears to have a drinking problem.
Jellied Octopus carcasses are being found clumped along the rocky shores of Dunedin.
Here's a photo gallery of crazy people swimming at St Clair beach in polar conditions.
"Alcohol abuse" was to blame for almost every arrest made in Queenstown over the weekend.
Tourists from Shanghai who had travelled the world extensively were suddenly confronted by an Oamaru man.
Power companies are charging Hawke's Bay households nearly 20 per cent more for electricity than for the same time last year.
Such stuff as dreams are made on. Friends, Romans, countrymen, lend me your ears. The world's mine oyster. Be not afraid of greatness.
Watch out for furry animals sunbathing on Bay of Plenty beaches.
After 12 years of waging war against invading wild ginger plants, Northland's top weedbusting group has finally been recognised.
A World War II German Focke-Wulf 190 has crash-landed in a paddock near Levin.
Who should be the All Blacks loose trio?
Frank Vincent, 70, from Hamilton, was saved by some ponga trees.
A Rotorua woman cowered in the corner covering her head with her hands as her partner loaded a rifle and pointed it at her, repeatedly pulling the trigger.
Monique Jane Eggleton faces 79 charges of offering to supply methamphetamine (P). Meanwhile a tip-off from a US agency led investigators to Christopher David Harold Gran.
This person thinks Miss Universe is about as disturbing as dwarf-tossing and thumbscrew.
Here's something for petrol heads to salivate over.
A group of joy-riders probably now regret cutting the lock on a gate and hooning around Te Mata Peak in Hawke's Bay. Meanwhile here's a "pretty simple case" of a man driving along and falling asleep.
The main aquifer used to irrigate crops on the Poverty Bay Flats may be drying up.
Prime Minister John Key smiled and waved as he went into Element Cafe in Wanganui but "Chester didn't look very happy, though."
A big hole has been knocked open in Featherston's main street.
The power of small classes and country schools have come to the fore in Wairarapa. Meanwhile self-confessed Mauriceville hippie Dave Clifton has just become a Kiwi after 50 years.
Meanwhile Lisa Cruse was taking a break with a Kit Kat Chunky bar when she was "sick with horror" as she realised she was apparently munching on a "large piece of glass."
We might be heading into an area of "incredible" media instability.
Here's a heap of dead boars, deer, possums, hares and chamois.
And nine-year-old Ocean Waitokia of Ashburton has yodeled her way next round of New Zealand's Got Talent.
Top trending topics on Twitter in NZ at Noon were: #WhatReallyTurnsMeOn, #SwimatKims, #nzcio, Salt, Pirlo, Richie McCaw, England, Italy, Auckland and Germany.