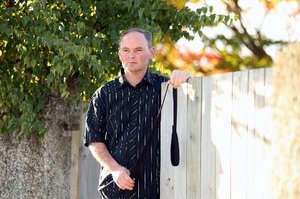 Stories making headlines across New Zealand at noon include a dog owner found guilty after a bizarre dog attack, mongrel mob members caught out with their mobile phones and an alien invasion reported in Oamaru.
Over in Gisborne, plenty of dogs are not fenced in and posties say they feel like they are risking life and limb.
Get your popcorn, tissues and possibly bucket out, as it's "The GC" night! You can vote for your favourite cast member in this photo poll of them in skimpy outfits.
This is what it takes to survive 48 hours of furious filmmaking at the V48.
Recreational anglers in Northland have been warned after trying to make a quick buck on the side of the road.

Artist and activist Tame Iti has thrown his mobile phone away, but having no cellphone coverage in the Ureweras has nothing to do with it. Meanwhile Mongrel Mob members in Wairoa are probably also seriously reconsidering their cellphone use today.
A Mount Maunganui woman on the domestic purposes is feeling insulted by "having it suggested that the nanny state needs to manage my ovaries."
Facebook is the latest crime fighting tool for Waikato cops. Meanwhile Matamata police are looking for a middle-aged man who tried to abduct a young girl.
The Whakatane Emergency Response Team (WERT) stood around scratching their heads for a while after a paraglider had an unfortunate landing near the Ohope hill.
KiwiRail has got up the nose of people in Rangitikei District.

In the Wairarapa, more people are coming forward with complaints about this year's phone book.
In Canterbury, a talented sportsman seriously burned after throwing methanol on a rubbish drum fire is determined to get back to the sports he loves.
Canterbury's earthquakes have created a once in a lifetime opportunity for Ashburton's business heart.
The Mongrel Mob in the South Island have been using shopping bags for purposes which they were not intended.
Dunedin man Dave Ure built a radio station in his man-cave to broadcast rock music to the world, but has discovered his reach is about 4km.
And there's been an alien invasion at Fenwick School in Oamaru.