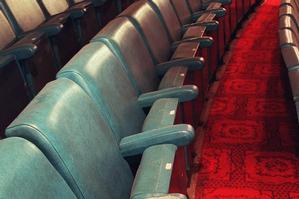 You had to feel sorry for the woman this week who was reported to have bought eight A Reserve $88 tickets for Sutra for her family, but who then turned around and didn't want to go. She was refused a refund. Lets hope her ungrateful family saw sense and took the punt on this extraordinary show, or at the very least she got a good price for the tickets on Trade Me – a friend in premium $88 Seats in the row in front of me at Sound of Silence got them for half price online. And why when if a dress doesn't fit you can take it back and get a refund you can't do the same with theatre tickets?
Having had the pleasure of complimentary tickets as a critic since I was aged 19, it never ceases to amaze me how much other people are prepared to spend on festival tickets. With tickets for many shows ranging in the $60-90 region (unless you want to be behind a pillar or up in the Gods), it's a pretty tall order for your average wage earner compared to the movies. Particularly taking into account the dent a big price summer one-off like AC/DC, Fleetwood Mac or the Big Day Out would have inflicted.
The why question is easier to answer. Strong ticket sales when times are tough are testament to the continued relevance of quality live performance, and a desire for people to escape their circumstance. These international festival shows are thoroughly road-tested hits, which get a range of critical responses to consider. There is not the same high hit and miss risk local theatre premieres have. The ticket prices reflect large casts, crews and equipment that have travelled around the world (freight costs are a huge factor for a festival) for a very small number of shows.
This year's tiresome journo question has been whether there are signs the recession has hurt the festival. So I thought I'd get my answer in now.
Last year was actually a strong year for theatre attendance in New Zealand. In my then day job, running New Zealand playwrights' organisation Playmarket, we collected a record amount of royalties on behalf of theatre writers' and – before you ask – also a record number for playwrights other than Roger Hall. There were outstanding successes at the box office for NZ work all over the shop. Elsewhere London's West End and Broadway also had a record year at the box office and in attendance.
As to the New Zealand Festival, I asked General Manager Sue Patterson. Pre festival booking she said had been at a similar level to the '96 and '98 festivals and sales were meeting expectations. Festival small talk and Facebook research also tells me that New Zealand works up against the international big guns are doing well. Ship Songs was packed this week, Apollo 13 (do see it before it goes to Sydney Opera House and Australia claims it from us) had booked out 80 per cent of Downstage as of Thursday, and one of the riskier box office works in the programme MTYL apparently sold respectably.
Yet lower ticket prices remains a big issue in terms of audience growth and diversity. And the last thing any producer wants to see is empty seats for an exceptional show that comes to town from around the world for a limited time. Festival programming in this regard is a fine art. The decisions aren't just about what sort of work fits the audience, but what sort of venue it can fill. Putting a show in a venue that does 20 per cent houses, while another is turning away punters, is not a good look.
A welcome Festival initiative this year has been the 'Tix for Twenty' scheme. Limited numbers of tickets for almost every show are available for $20 (including those horrid huge service fees) on the day, if you rock up in person to Midland Park from 12.30pm on. This is ridiculously sensible thinking for the festival's box office and the punter's pocket alike.
Indeed it's a standard practice to have cheap day tickets in places like London. New Zealand remains slow to pick up on many sensible schemes to ensure theatres are full. At the Royal Court Theatre you can even pick up 10 pence tickets in standing room an hour for a performance. At the National Theatre Travelex, 10 pound shows have been enormously successful with more than half of the tickets for every performance 10 quid.
The final figures for this year's festival will be interesting to see. Festivals tend to make a song and dance when they break box office records and have strong bookings, as strong sales breed even more. Conversely however it's noteworthy that last year's Auckland Festival didn't make a song and dance about announcing how successful or not they were financially last year. And as they say, no news is good news.
Mark Amery is reviewing theatre and dance performances at the NZ International Arts Festival for nzherald.co.nz.