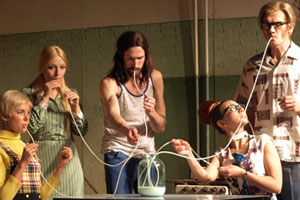 A 6am powhiri for two hundred international artists kicked off the 2010 New Zealand International Arts Festival on Wellington's waterfront this morning.
Dance, music, theatre, performing visual arts performances and literary events will seize the capital over the three-week duration of the festival - one of Australasia's largest.
The biannual festival opens with a New Zealand Symphony Orchestra performance of Mahler's Symphony No. 8, conducted by Vladimir Ashkenazy, which will be relayed live on a giant screen in Civic Square.
Also tonight is Transports Exceptionnels, a dance duet between a man and a digger.
Other shows range from Sutra - a group of performing Shaolin monks - to a Nina Simone tribute by a group that includes her daughter.
Artistic director Lissa Twoney said the dawn powhiri had an "electric buzz".
"It was extremely powerful. There's no ceremony in the world like we do at dawn on the morning of opening night."
It had been a massive task putting the programme together, Ms Twoney said.
"It's certainly a relief this morning to have the festival open."
The NZ International Festival of the Arts runs from February 26 until March 21 at venues around Wellington. Come to nzherald.co.nz for reviews, news and photos.