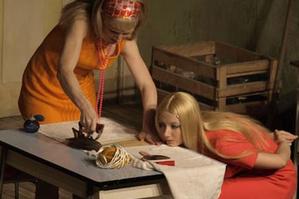 Much as I love Simon and Garfunkel's catalogue of music, the idea of over three hours of Latvian theatre with no words set to Paul and Art's recordings had me contemplating packing my Ipod Shuffle for this show.
Sound of Silence however turns out to be the richest, most adorable celebration of 1960s innocence, youth and joy I can recall - and without the duo breaking into Feeling Groovy even once.
Fourteen young Latvian people sneak into what resembles a dilapidated five room apartment to play records, read books, shoot photos, swap clothes, pash and make out riotously. The show is lit by its carefree, humour-filled playful exuberance. It's light on the situation's political context: a country then under communist rule, where young people escaped to indulge in the freedom of the west away from public eyes. But then really this could be anywhere in the world in the '60s. Indeed my own parents are reputed to have conceived me (a '69er) near their gang of friends' clubhouse in rural Surrey England.
The play, like Simon and Garfunkel's music, celebrates the freedom music, literature and love provide. The rooms are full of piles of jars, books and music players to be given theatrical life. As the play opens the characters sneak into the rooms to tune in radios, play flexidisks on a suitcase record player or listen to a reel to reel while they make out. The scenes that follow are surreal sketch comedy, occurring concurrently in and out of doors, up against and, through invisible walls between the rooms.
Neatly, the liberating force of music is emphasised by it being activated magically by the activity of the individuals. As a company for example they keep the song The Dangling Conversation playing by keeping a feather afloat with their breath. When the feather is finally caught it is done so nice and symbolically by being snapped shut in a book mid air, to the end beat of Paul Simon's line "Is the theatre really dead?". The silent answer a resounding no.
A beautiful image like this is an example of how Sound of Silence is built around the actor's poetic interaction with objects. Not only do you not miss the absence of dialogue because Simon and Garfunkel's music is so rich in narrative and language, but also because the actors' frolics with objects fills the play's absence of character or story development. And it's also powered by the exquisite attention to the costume and prop detail of the period. The show is veritable fashion parade of gorgeous retro styles, from bobs to beehives, mini skirts to flares, and plastic macs to primary-coloured tights.
Still, in answer to my initial fear I did leave feeling there was a stronger work with a few cuts. There are a number of sections, particularly in the second half, where the work moves unnecessarily out of the structure previously set up, and ideas and songs are repeated without substantial additional effect. Not that the audience minded: this is a work so delightful and at ease with itself it'd be hard for it to outstay its welcome. Besides, a little extravagance, particularly at these ticket prices is just what a festival calls for.
Congratulations to the festival must go not just on their choice of work but also on their clever transformation of the cavernous TSB Bank Arena into an intimate 500 seat theatre. It's just the sort of mid size venue every city in New Zealand needs.
*Sound of Silence runs from February 26 - March 5 at the TSB Bank Arena, as part of the NZ International Arts Festival in Wellington.