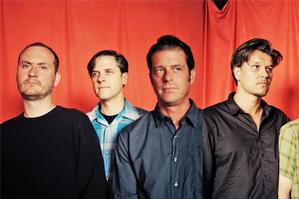 Immigration and borders are themes that trip so easily off Joey Burns' tongue, you'd swear he was a professor of sociology. Even his band Calexico is named after the Californian town that lies sandwiched on the US-Mexico border between San Diego and Mexicali. Burns' interest in how and why people choose to live where they do led to his own migration in 1995, when he packed up his car - and his life in Los Angeles - and headed for the Arizona desert.
His musical journey had begun long before that, but it wasn't until he met up with his old pal John Conventino once he'd reached Tucson and formed Calexico that he found where he belonged. Situated smack in the middle of the Sonoran desert, just 100km north of the border, Tucson has long been the source of inspiration for Calexico's "cactus rock" sound, a blend of Southwestern soul meets alt-country, with a twist of Latino. Burns loves the vibrant local music scene and the fact that he can look out of his window and see for miles: "There's a very poetic side to the music being out here and being surrounded by the extreme climate and having a lot of space. There are not a lot of tall buildings here and your perspective of the horizon is quite open."
Living just an hour's drive from Mexico also feeds his fascination with cultural and physical borders. "There's a lot of stuff happening here. Immigration is a big one," he says.
He is intrigued, quite possibly flabbergasted, yet still listens politely when I impart my knowledge of the goings on along the Arizona-Mexican border, which has been shamefully tainted by watching too many late-night American reality television cop shows.
"C'mon, they're trying to make money and to sensationalise it," he says. "But yes, there are a lot of drugs that come through the border. There's lots of violence and there are a lot of complexities because of all the different groups that are trying to make their way."
He rattles off a long list of dodgy dealings - people smuggling, kidnapping (especially of young women) - that take place regularly in his hometown. It sounds far too much like the storyline from the bone-chilling movie No Country For Old Men for my liking. But it's stuff like this that gives Burns song writing inspiration and a deeper understanding of the region's heartaches.
"Despite the militarised border, there are still people getting across, they're just going further into the desert to risk their lives and cross where there's not so much surveillance. There is a completely collapsing economy south of the border, so of course people are going to risk their lives to get here."
Burns and Conventino remain the constant members in Calexico and have contributed to numerous projects, including the soundtrack for the 2007 Todd Haynes film I'm Not There. "We did a bunch of songs with a bunch of great artists for the movie. When people ask what we've been doing for the last few years, I like starting there because it highlights what we do best. We're really great at supporting other people." The community spirit that comes from working with others is also why Burns and Conventino love playing festivals and why they're coming to New Zealand next month for the International Festival of Arts in Wellington. It's not the first time Calexico has been here and Burns is looking forward to coming back to play. And he's not at all bothered that we don't have a desert or that there are no scary border crossings between the North and South Islands. After all, the special thing about the borders that feature so significantly in Burns' life is that there really are none when it comes to music.
* Calexico play the International Arts Festival in Wellington on March 11-12, 2010; Womad runs from March 12-14 in New Plymouth.