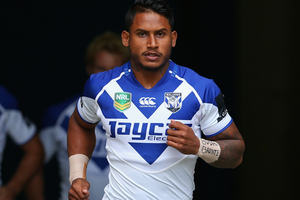 Canterbury boss Raelene Castle claims the fact Ben Barba will be paid the same amount by Brisbane as he would have by the Bulldogs proves the superstar's release was not financially motivated.
The Broncos on Wednesday announced they had secured the Dally M medal winner on a three-year deal starting in 2014, Brisbane agreeing to an undisclosed compensation figure with the Bulldogs for freeing him from the final two years of his contract.
Barba went to the Bulldogs earlier this month requesting a release on compassionate grounds, claiming he wanted to be closer to his family - with his former partner Ainslie Currie set to move north with the couple's two children.
Speculation quickly emerged that Barba's real desire to get out of the Bulldogs was to take up a lucrative deal with a Brisbane side desperate for talent, a claim Castle denied.
"No, it's genuinely family reasons," Castle said.
"They've taken the two-year contract as is across, so it's not about financial with him.
"It's been a tough decision for the club to release him, it's been a difficult decision for Ben to make the decision to go.
"Ultimately when you've got a player that comes to you and says to you 'this is a family situation and I think I'm going to be a better player and a better person when I'm closer to my family', that's a really hard thing to say no to."
The third-year of Barba's deal with the Broncos has been negotiated separately, with Castle adding that no restrictions had been placed on Barba playing against the Bulldogs.
Neither club would speculate on the compensation being paid to the Bulldogs.
Broncos chief executive Paul White said the deal had been thrashed out over the past four weeks and involved a "reasonable but certainly not excessive" compensation.
"These negotiations have not been based on financial considerations," White said.
"What has played a heavy role is Ben's commitment to his family and a desire to return to Queensland.
"We have struck a compensation deal with the Bulldogs and the terms and conditions are ... reasonable but certainly not excessive.
"We understand the investments the Bulldogs have made in Ben both on and off the field part in the last 12 months and we have taken that into consideration."
White said Barba did not have any behavioural clauses added to his contract despite his off-field troubles at the Bulldogs.
Barba was stood down by the club for the opening three rounds of the season as he sought professional help to deal with a series of personal issues.
"Ben Barba is ill and he needs help," then chief executive Todd Greenberg said in February.
Barba is attempting to reconcile his relationship with Currie, but has struggled to reach the heights which saw him named the best player in the game last year.
White said Barba would need to fit in with the culture at the Broncos.
"Ben will understand from the get-go what those expectations are," he said.
"I am looking forward to what he can offer not just the team but also the community up here.
"He is a proud indigenous man and I think he can become a great role model for his people."