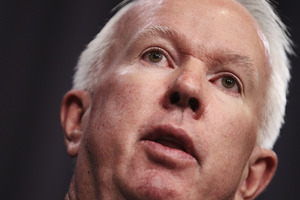 He kicked it. Now he has to catch it. But the biggest bomb in Australian sport is proving hard to handle for Australian Crime Commission boss John Lawler.
In footy-speak, Lawler is being gang-tackled, with the odd shirtfront and king-hit thrown in for good measure.
And in true footy tradition, it's one in, all in.
Lawler has been clobbered from all sides since lobbing his bomb revealing that the nation's top crime agency had uncovered widespread doping in Australian sport, linked to organised crime.
Lawler can't, for legal reasons, detail the who, what, where, when and how; he's told police, but can't tell us.
As a result, the career cop is really copping it.
NRL clubs, following first-phase attacks from legends like Wayne Bennett and Phil Gould, continued to crash into Lawler this week.
North Queensland coach Neil Henry bluntly summed up the prevailing attitude in league circles.
"The way the whole thing has been handled has been a disgrace," Henry said this week.
North Queensland's chief executive Peter Jourdain was equally blunt, floating legal action from organisations and clubs seeking damages if the commission failed to produce results.
"It's damning to a lot of sports," Jourdain said.
AFL clubs also lined up Lawler and the commission. "If you're going to make those claims, then be specific about them because you have tarnished the sport," Collingwood coach Nathan Buckley said.
Buckley's counterpart at the Adelaide Crows, Brenton Sanderson, bemoaned how sponsors were now wary of the AFL.
"At a time when we're really trying to get good sponsorship, good companies around our brand, this has just really hit it for six," he said.
Not to be outdone, politicians weighed in. State and territory sports ministers directly aired their grievances at a meeting with the commission, the Australian Sports Anti-Doping Authority and Federal Sports Minister Kate Lundy.
The ministers, like the clubs and the wider public, were annoyed at being kept in the dark.
"Every club in this country is being tainted as possible drug users," Queensland's Sport Minister Steve Dickson said.
Even the chief of the World Anti-Doping Authority, John Fahey, had a crack at Lawler and his crime commission crew.
"My regret is that they did it in such a general manner," Fahey said. "I'm afraid it's not likely the cloud that's hanging over our head right now is going to be removed any time soon."
Lawler heard it all. And remained unfazed. "I would much prefer to be talking to you ... about why we released our report than explaining to a coroner why we didn't," Lawler said.
So just why did the crime commission release the information when they did? Lawler, like a good captain, shouldered responsibility.
"It was my judgment that action needed to be taken to alert the public, to alert those criminals who are involved in the supply of these substances and to put them on notice.
"And indeed, to alert the codes in a classified briefing so that they could take the preventative measures to harden the environment."
As it stands, six NRL clubs - Canberra, Cronulla, Manly, Newcastle, North Queensland and Penrith - have confirmed their mention in the commission's report. The case of suspected match-fixing was a rugby league game, played in Sydney - teams and date undisclosed.
In the AFL, there is one club - Essendon - being investigated for possibly using performance-enhancing drugs, as is one unidentified player.
Lawler's critics say that hardly amounts to widespread drug use. But Lawler knows more than the critics.
And so do the NRL and AFL bosses, who have read the commission's confidential report and remain circumspect in their public comments.
- AAP