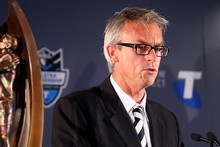 David Gallop is stepping down from his job as chief executive of the Australian Rugby League Commission, effective immediately.
ARLC chairman John Grant announced the move in a joint statement, saying it was by mutual agreement and "David understands the need for a fresh approach''.
Grant said the move came with the Commission, installed to run the game in February, seeking to bring a new approach to the way the game is viewed, structured and governed.
"Taking this into account and with the interests of the game at heart, the board and David have reached an agreement that the game needs a different style of leadership detached from the past for the next stage of its development,'' Grant said.
Grant paid tribute to Gallop's leading role in navigating the game through a decade of growth and change that culminated in the establishment of the commission.
"This agreement should in no way detract from the job David has done over the last decade,'' he said.
"He has proven his skills as an effective administrator despite having one of the toughest jobs in sports management and he can be justifiably proud of his achievements and the legacy he leaves.
"His leadership and dedication through often challenging times has been a contributor to the commercial success of the NRL competition and the popularity rugby league enjoys today.
"On behalf of the ARL Commission and the rugby league community, I thank him for the countless hours he has devoted to promoting and improving rugby league in Australia.
Gallop was gracious in his parting comments in the ARLC statement.
"It's been a privilege for me to lead the game over the last 10 years and see the game's resurgence,'' said Gallop.
"I love the game and wish it well.
"Given there's never a good time to give effect to a decision such as this, the commission and I have both determined it's best for me to depart immediately.
"I would like to thank the clubs, the players, my staff and the fans of the game.
"It has been an exhilarating and challenging period, but no one can do this job forever.''
Gallop had been involved in negotiating the game's crucial new broadcast deal expected to be worth more than $1 billion but Grant said those talks were in hand.
"David leaves with the broadcast negotiations under control following the appointment of Greenhill Caliburn as lead negotiator and the new whole-of-game strategic plan well advanced,'' he said.
He said the search for a new CEO would begin immediately, with NRL general manager of strategy Shane Mattiske to take over the leadership in the interim.
Grant said Mattiske was already leading the executive's role in the broadcast negotiations and development of the whole-of-game strategic plan.
"We have a very capable senior leadership team that, with the support of the board, will ensure there is continuity until a new CEO is appointed,'' he said.
- AAP