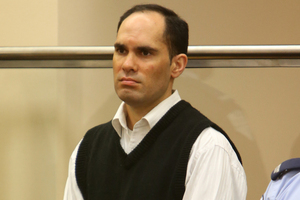 Kaitaia businessman Daniel Luke Taylor, 37, a youth leader with the Latter Day Saints, has been sentenced to five years and seven months jail for sexual offending.
His victims have told the High Court at Whangarei this morning the fact he was preaching in church made it more difficult to complain about his actions.
Taylor had pleaded guilty to sexual offending against boys and youths.
About a dozen family members of the victims and their supporters were present at the sentencing, while Taylor sat composed with eyes fixed towards the judge.
He admitted to nine charges on September 26 - more than 11 months after he was arrested - and was remanded in custody for today's sentencing.
The charges included six of indecently assaulting a boy aged between 12 and 16, one of indecent assault on a boy under 16, one charge of indecent assault on a boy aged over 16 and one of attempted sexual connection with a boy under 12.
He previously faced 19 charges in relation to sexual assaults on both teen and pre-teen boys between 2007 and 2011.
Two victim impact statements have been read out in court by the mother of an abused boy and by a man who read it on behalf of another boy.
The victims said they felt guilty about what had happened and felt shy and embarrassed to tell anyone.
A man couldn't control his emotions in court when the second of the two victim impact statements were being read out. He left the court crying with his three children.
Through his lawyer, Arthur Fairly, Taylor apologised to all those he had affected.
The Crown is asking for a minimum non parole period, saying a great deal of harm had been done by Taylor's offending, there was a clear breach of trust and that he came to know the victims through church.
A foster parent for Child, Youth and Family and vice president of the Kaitaia Business Association, Taylor initially denied the charges and was supposed to stand trial in Whangarei in October this year.
Taylor must spend at least 2 years and 10 months behind bars.
Northland police criminal investigations manager Detective Inspector Kevin Burke said while Taylor had been sentenced, the victims of his crime would remain victims for the rest of their lives.
The case was an example of agencies working together in the interest of victims, Mr Burke said.
"Police would encourage any further victims of sexual abuse in Northland to come forward.''
In August, paedophile Far North school teacher James Parker was sentenced to preventive detention with a minimum non-parole period of seven years after earlier admitting 74 sex charges relating to sleepovers with boys at his Awanui farm between 1999 and 2012.
The court was told the charges related to upwards of 300 offences.
And police are currently carrying out an investigation against James Sanders, who has already appeared in the Kaitaia District Court on a number of sexual offence charges against children.
As part of this investigation police have set up an 0800 number for people to call if they have information in relation to Sanders' activities. The number is 0800 586 366.
People with information in relation to any other sexual abuse offending can contact their local police or information can be given anonymously to the Crimestoppers organisation on 0800 555 111.
For more articles from this region, go to Northern Advocate