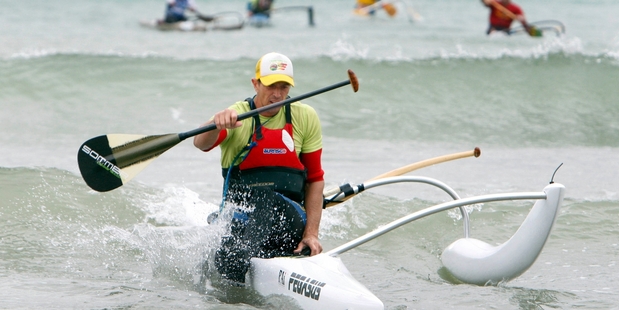 The thought of having an annual Poor Knights Crossing endurance race become part of an international race calendar is mouth-watering, but race director Tim Eves isn't getting ahead of himself.
"We're only one year into it and we haven't even raced it yet," Eves said of the Poor Knights Crossing, which had a late course change due to the weekend's weather.
The picturesque course had drawn many international paddlers but rough weather on Saturday meant the athletes had to settle for a loop in and around Wellington's Bay.
Should the event go ahead next year, and Eves says the signs are looking good, there is the potential that a crew of paddlers heading for Tahiti may compete.
Eves said they had talked to Tahiti surf ski organisers who host a race which is part of an international series.
Paddlers who compete in Tahiti have to travel through Auckland so Eves hopes to shift the event date a week or so to fit with the time frames.
"To race in Tahiti they have to come through Auckland so we'll see how that [correspondence] goes. It has the potential to be part of a world series."
The Poor Knights Crossing was originally set to start inside the Rikoriko sea cave, and include a quick navigation through a natural rock archway before an all-out dash for the mainland across 24km of open ocean before finishing in Tutukaka Harbour.
However, Eves had to make the difficult call and disappoint some paddlers who had only entered for the experience of racing from the Poor Knights.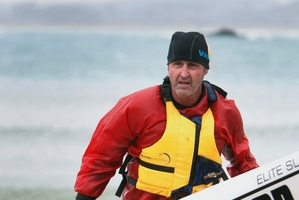 Despite the course change, Eves said about 60 paddlers still took part in the race which had 5-6m high surf and more than 40-knot winds.
"She was rough ... from my count everyone made it to shore," he joked.
"People were reasonably circumspect about the [new course], they came to get out to the knights but couldn't quite do it and that's just the way it was.
"[Paddlers] were supposed to complete [the triangular course] four times but seas were so big that locating the top buoy out at sea was tough.
"In the end it was a bit of a gentlemen's agreement going out to the top.
"It was not ideal but in the circumstances it was the best we could do."
From Saturday's racing, internationally renowned surf ski paddler Dean Gardiner from Australia won the surf ski section while Whakatane's Troy Dolman won the waka ama section. Gardiner has also won the world title in Molokai, Hawaii several times and even he came out of the ocean looking wide eyed and slightly white in the face, Eves said.
"[Gardiner] was shaking his head to the size of some of those waves.
"Two-thirds of the field opted to come in after two or three cycles but a hardy bunch managed to finish the four loops."