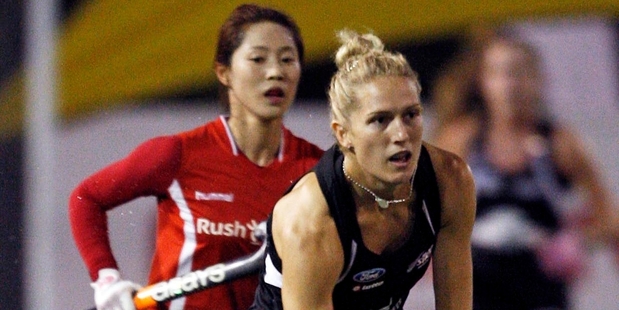 THE Northland women's hockey team will unleash what is touted their best team since their Black Sticks-laden side of 2010 when the National Hockey League kicks off next weekend.
The Mark Cromie Holden 2014 Northland NHL Women's Team sees the return of London Olympians Ella Gunson and Alana Millington, who will join current Black Sticks Stacey Michelsen and Brooke Neal.
Also in the fold are former Black Sticks Jasmin McQuinn and Laura Douglas who will join forces with two international guest players in the form of Esther Hotham and Maddison Rosser, both from New South Wales' winning under-21 side.
Coach Angeline Waetford is pretty happy to welcome back the service of Northland Black Sticks, especially Michelsen.
Waetford said this is Michelsen's first NHL season since the 2010 season, adding she was impressed with the energy Michelsen had brought so far.
"It's awesome for Northland to have her back in the team," Waetford said. "She's so positive and encouraging in training.
"It's probably not uncommon for Black Sticks, in terms of coming into a team like this, they generally don't want to be involved as much because they've come off a huge programme - but not Stacey."
Michelsen's involvement in the team also should serve as a positive for young players like Samantha Polovnikoff and Teuila Wendt.
Waetford agreed for the duo to play alongside Michelsen will be an honour and no doubt they will learn plenty from her.
In terms of what the team hopes to achieve this season, the answer was simple: Top four.
Reaching the top four would equal the women's best finish in the NHL, something they did in 2010 prior to the London Olympics.
However, Waetford has a bigger aim for the side that will hopefully change the future of women's represent hockey.
She hopes to make Northland the No.1 choice for all Northlanders playing around the country, rather than the fall-back as is usually the case.
"When I applied for position this year as coach I wanted to get back to having a culture in our Northland team.
"What I mean by that is when players leave school they go and play for different associations, what happens when they go away is they'll trial for the association they are in and if they don't make it it is pretty much a given they'll make Northland.
"I know it's not going to happen this season but it's certainly one of my main goals."
During the team's build-up for next weekend's NHL, they have been put under the pump by local trainer Jon Renes, who has put them outside their comfort zone in getting the side fit.
Also during their build-up, the women's team had faced the Northland men's team and won.
Other Northland women to be playing in the NHL include Sam Harrison, Charlotte Harrison, Jan Rowsell (Auckland), Arnica Palmer (Midlands), and Sian Freemaux (Canterbury).
Northland start their NHL campaign next weekend against North Harbour in Whangarei, kicking off at 12pm with the men starting at 2pm.
NORTHLAND: Nicola Howes, Elley Miller, Jess Macalister, Alicia Jurisich, Samantha Polovnikoff, Jodie Nichol, Maddison Rosser, Stacey Michelsen, Jasmin McQuinn, Ella Gunson, Laura Douglas, Jane Thomson, Teuila Wendt, Brooke Neal, Carli Michelsen, Esther Hotham, Alana Millington, Karen Parker.