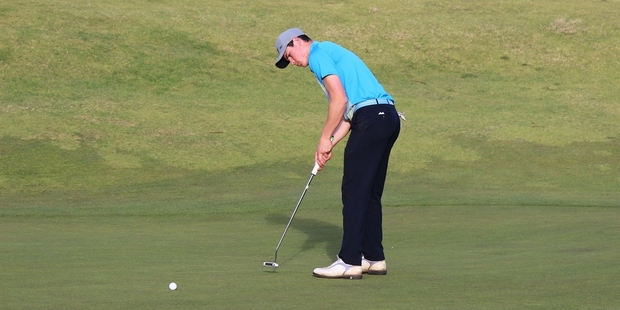 Whangarei's Kadin Neho has continued his recent resurgence in form with a wire-to-wire victory at the 2014 North Harbour Stroke Play Championship held at the Muriwai Golf Links.
Neho's win continues his brilliant run this season by winning another provincial title and New Zealand Golf Order of Merit event - to add to the Waikato Stroke Play he won last month.
Neho was challenged for the lead in the first three rounds by several players within the strong field. However, in the end he comfortably cruised to a six-shot victory after a stunning front nine holes of 32 - when his nearest competitor, and local favourite, Tadhg Campbell faded with a three-over 39.
The first round last Friday was hit by near gale-force winds that got the better of most of the competitors.
It was a survival test with many shooting scores higher than they were accustomed to.
Neho would be the only player to break par with a remarkable 71, undoubtedly the round of the tournament given the horrendous southerly ripping through the area.
Another round of 71 in testy conditions on Saturday allowed him to retain the lead, albeit by just one shot, when North Harbour's top junior boy representative Campbell shot a superb 68.
Sunday finally brought calmer conditions for the 50 players that made the cut.
Neho and Campbell shot 70s in the morning's third round to open a sizeable gap between them and the rest of the field heading into round four.
It would, however, be Neho's front nine in the afternoon that would clinch the title. The form would continue early into the back nine as he reached six under par for the round after just 14 holes.
Even a slightly messy finish - of bogey, double bogey, and another bogey - could not thwart his victory stroll and his final round of 70 was good enough for the six-shot win and a four-round total of 282.
Strong final rounds from Brad Hayward of New Plymouth (68) and Ryan Chisnall of Greenacres (69) resulted in them finishing tied for second on 288.
The Muriwai Links was again prepared in fantastic condition for the championship and has been a popular venue of the tournament in recent years.
Results:
2014 North Harbour Stroke Play - Muriwai Golf Links, August 15-17.
Top 10 finishers:
1 - Kadin Neho (Whangarei) 71, 71, 70, 70; 282.
T2- Brad Hayward (New Plymouth) 76, 70, 74, 68; 288.
T2-Ryan Chisnall (Greenacres) 80, 68, 71, 69; 288.
4 - Tadhg Campbell (Muriwai) 75, 68, 70, 76; 289.
5 - Denzel Leremia (Hamilton) 77, 69, 78, 67; 291.
T6 - Jake Meenhorst (Huapai) 77, 74, 73, 71; 295.
T6 - Brad Kendall (North Shore) 75, 77, 69, 74; 295.
T8 - Lachie McDonald (Marton) 73, 79, 71, 73; 296.
T8 - Alex Neely (Kerikeri) 77, 76, 68, 75; 296.
10 - Charlie Hillier (Te Puke) 77, 77, 71, 72; 297.