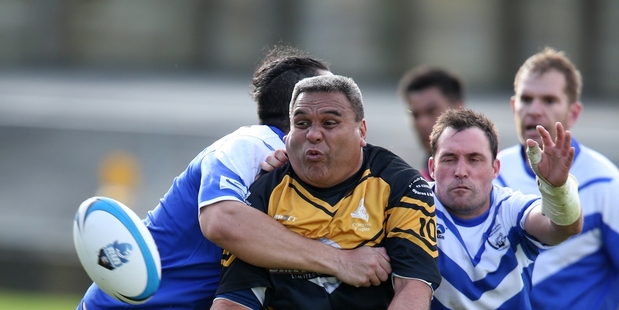 IF discipline and defence win finals then the Otangarei Knights could have a chance to knock the defending champions Hikurangi Stags off their perch in today's Multikai Cooker Rugby League Northland grand final.
Hikurangi coach and playmaker Joe Rau is one of Otangarei's greatest admirers this year and believes his team will have to play well to win their fourth successive title against a team that has played a focused brand of football all season.
"I've been a big fan of Otangarei this year, they are more focused on playing the game this year, with much better discipline, so they are a big threat to us and it's a huge task for us this weekend," he said.
The Stags will start as the clear favourites to win with such championship pedigree especially considering it is Otangarei's first year of existence as a club. After playing as the City Knights for the past three seasons rebranding this year really seems to have paid off.
Knights assistant coach John Hunapo said the side wanted to establish a point of difference from the City Rugby Club but a change of attitude on the park has seen them playing a more disciplined kind of game to provide the fledgling club with some great results.
It was a big task to defeat the minor premiers Takahiwai last Saturday to reach the final - especially after losing playmaker Linn Hunapo in the first round of finals football against Portland - but one they tenaciously stuck to until the final whistle.
The Knights have already surpassed expectations for their season but are keen to go one better this week.
"The boys are really looking forward to getting a taste of grand final football and know they could go all the way but no matter the outcome, it's been a really good year for us," Hunapo said.
The Knights showed impressive strength and commitment against Takahiwai holding their line despite having two players sin-binned and then breaking out to score twice against the odds.
Otangarei and Hikurangi have met twice this season with the Knights clearly winning the first encounter but the second was a hard-fought 8-6 win for the Stags.
Rau, the veteran playmaker for Hikurangi, is happy to be on deck for the final having survived the semifinal win over the Hokianga Pioneers playing with a shoulder injury.
"Last week I restricted myself on the field but it's the last game of the year this week so I can go all out in the final, there's no need to be conservative," he said.
"There are a couple of other players nursing niggling injuries and a couple more who will have to wait until the judiciary sits to decide whether they will play." Hikurangi's semifinal against Hokianga saw a first-half brawl erupt in which two players from each side were sent off but the Stags have prepared for all eventualities, Rau said.
"We'll deal with whatever happens accordingly," he said.