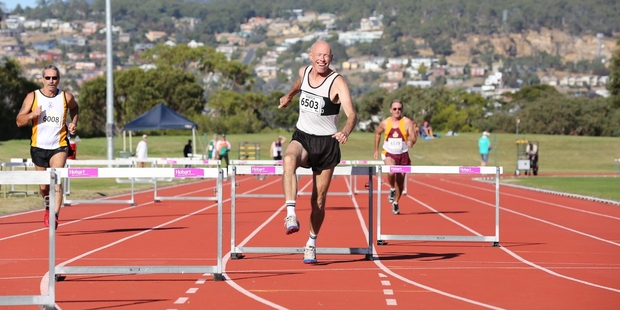 After having trained as a national class 400m hurdler while studying in Britain, Christopher Portch has settled well and truly in Northland. Chris is part of the Athletics Whangarei coaching staff and he continues to compete at masters level. Chris took time to catch up with the Advocate ...
Recently you've had some good results in masters athletics in Australia. How'd you go and what'd you get?
Competing in the M65 age group at the Australian Masters Track and Field Championships in Hobart I was pleased to extend my unbeaten record in the two hurdles events. I also collected a silver medal in the 400m and Northland records in all three events.
What is your athletics background?
I developed as a national class 400m hurdler while training as a physical education specialist at Loughborough in Britain. Athletics has always enjoyed a huge following, and international success, in Britain and that environment helped develop my interest and knowledge of the sport.
Cross-country provided my earliest success as a coach [though].
Now that you're coaching, and your specialty is hurdles, what is it about that type of event which gets you so inspired to help Northland athletes?
A lifetime enjoyment of competing, travelling to different places and making new friends through athletics, rather than any particular event, inspired me to coach seriously. I have been fortunate in working with a talented group of Athletics Whangarei girls. I believe my ability to recognise and develop their talent for a particular event has been my strength as a coach.
What do you think of technology that is now used in athletics?
Technology currently in use in athletics certainly assists in the management of meetings. The biggest technical advance in my era was the introduction of artificial surfaces for tracks, in the late 60s, providing a consistent surface regardless of weather conditions.
What's the next big event for you, as an athlete and as a coach?
I have yet to decide what my next big event will be, I finished just a fraction of a second outside the New Zealand record for the 100m hurdles in Australia so I do have a target. As a coach my girls will be competing in the Athletics Auckland Cross-country Grand Prix this winter in preparation for the Athletics New Zealand Cross-country Championship.