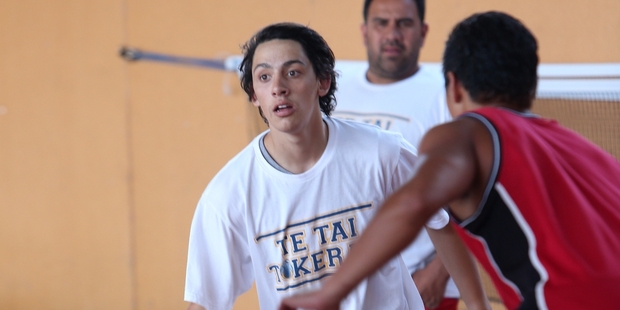 Te Tai Tokerau Basketball has jump-started its year with a three-day training camp, ably led by legendary Northlander Pero Cameron.
This year's Jump Start camp is the first of its kind, with the early signs looking like it will become a regular fixture in the basketball calendar and Pero indicating he will be back to help nurture the region's youth.
Camp director Kim Wells said the camp, which finished yesterday at Kamo High School, had proved a great opportunity for the 40-odd young basketballers to lift their expectations and skills.
"We can see the talent in the youth and the young ones coming through, but they're a bit young," she said. "We can take them away to tournaments and get smashed, but now we're within 15-20 points, which is a great place to be but we need that little bit extra.
"I think the biggest thing was quite a few of the age groups had to start school this week but opted not to go back."
While some might see it as sport coming ahead of education, it seems to have been worthwhile - with the young Northlanders feeling what hard training was. "Day one they were all starry-eyed, which I thought was awesome," Wells added. "They left here sore, arrived in the morning sore, but they're still in awe of who was training them and making them do drills."
Wells noted that Pero had been an absolute star for the kids, saying that he and his fellow coaches - Raymond Cameron, Jody Cameron and Aaron Sadler - had learned the kids' names.
"I think what has been quite reinforcing has been the coaches calling them [the youngsters] by their first names, which I think is neat."
Pero's mum Mata has also played a hands-on roll with many of the kids, saying it was good for the youngsters to hear the same message in a different way.
"They're teaching the same thing, but it's coming out a different mouth," Mata said, who is a legendary Northlander in her own right. "I've been after that boy [Pero] for years and he finally said 'okay then' and gave me dates ... and then he forgot them last week," Mata laughed.
"We needed somewhere to hang our hat on.
"North Harbour has a tournament, everywhere does except Tai Tokerau.
"We're trying to build that grassroots and the idea of TTT and Super 6 [now the Jennian Homes Super Basketball League] was giving our kids something to build up to."
She added that Pero had agreed that he would continue to come back and help out, with next year's camp looking to be held a week earlier to avoid any conflict with Northland or Australian - where Pero lives - school timetables.
More, page 7