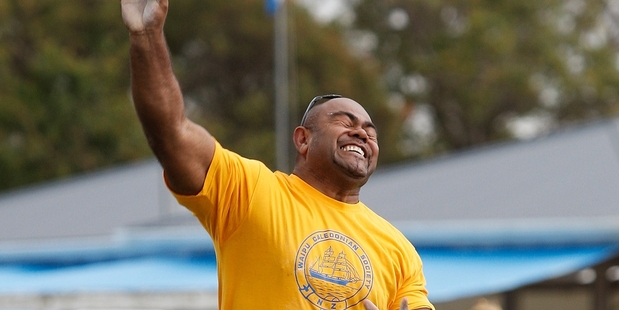 Fijian Paula Tabakinabou has never been to the Highland Games in Waipu but was out tossing the Caledonian hammer and Braemar stone as a competitor yesterday.
The novice was competing under the watchful eyes of retired master of sheaf-tossing Pat Hellier, who was judging the heavyweight championship this year.
Mr Tabakinabou, a prison officer in Ngawha, is keen to take part in similar competitions around the country after his first experience at Waipu.
Fellow competitor in the heavyweight championship and friend Craig Walker encouraged him to train and participate in the games yesterday.
"We met at a gym and he showed me a video clip of the competition as he's been to places like Scotland to compete. He then invited me to come over for training.
"Had my first practice on Tuesday and it's my first time here, let alone competing in the games but it's good and something different.
"This [heavyweight championship] is fun and enjoyable. It means I have to keep up my training and I guess it's more the techniques than physical strength that gets you through."
The first Fijian to participate in games competition, Mr Tabakinabou said he had told fellow countrymen in Whangarei about his participation.
He looked comfortable in the traditional Scottish skirt, saying it was similar to the sulu, a type of skirt traditionally worn by men and women in Fiji.
Competing in front of a large crowd didn't bother him as he's played rugby in front of thousands of fans in Fiji.
Hellier said it felt a bit weird to watch competitors from the sideline in the event he ruled for 18 years.
"But it's time for a new champion. There's good competition between a few guys and I don't think it's going to be a runaway."