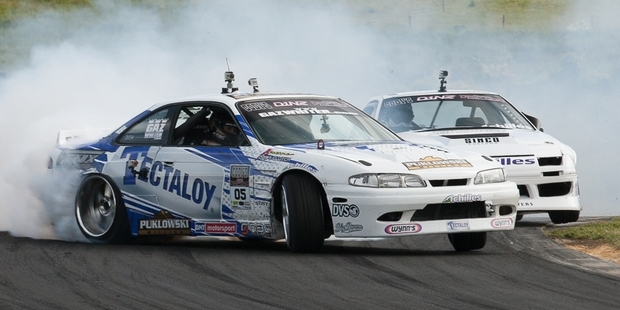 Northland drifter Gary "Gaz" Whiter has smoked the opposition and wheeled his way into first place in the first round of 2013/14 D1NZ National Drifting Championship.
The three-time former champ won the first round of heats at Hampton Downs over the weekend in a Tectaloy Nissan S14 V8.
"I did exactly what I set out to do, so it [the day] couldn't really have gone much better," said the Whangarei driver.
Whiter - who won the D1NZ "Drift King" title for three consecutive years from 2008 to 2011 - top scored in qualifying on Sunday morning and, after a bye in the Top 32, won battles against Hamilton's Bruce Tannock, Auckland's Andrew Redward and Shane van Gisbergen before coming up against and beating "Mad Mike" Whiddett in the final.
Whiter said he spent the past two years battling engine problems. "The last two years have been hard - I think between the four cylinders and the V8s we went through seven engines - but [Sunday] proves that if the car holds together I can get the results."
V8 Supercar and SuperTourer driver Van Gisbergen returned to the D1NZ series for a full season, after a toe-in-the-water three rounds last season.
He came third on the day and was stoked with the result. "I was pretty nervous coming up against Gaz and some of the other big names but did my best and the plan now is to just keep on doing it, keep on learning, keep on improving," said Van Gisbergen. "I'm definitely not scared of getting close to the other car, because that's the way we race in the V8s."
Another Whangarei drifter and key contender, Daniel "Fanga Dan" Woolhouse, qualified seventh in his Castrol Edge Holden Commodore, but had to go One More Times to beat the country's top female driver, Tauranga's Jodie Verhulst in her D1 Pro class debut in the Top 16, then was beaten himself by last year's Pro-Am champ Darren Kelly in their Top 8 battle.
The second round of the D1NZ National Drifting Championship comes to Whangarei on December 14-15, with subsequent rounds at Tauranga, Taupo, Christchurch and Pukekohe.
D1NZ, Round 1
1. Gaz Whiter 112 points.
2. "Mad Mike" Whiddett 96.
3. Shane van Gisbergen 82.
4. Cam Vernon 70.
5. Curt Whittaker 67.
6. Kyle Jackways 64.
7. Andrew Redward 63.
8. Troy Forsythe 63.
9. Darren Kelly 61.5.
10. Daniel "Fanga Dan" Woolhouse 57.