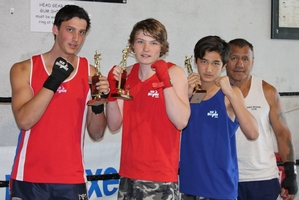 It was three wins from three fights for the trio of fighters representing the Kaeo Boxing Club at the Central North Island Association Boxing Tournament in Rotorua.
Kyle Chen, Blake Hodges and Zander Kriel all ended up winning their respective bouts, a source of great pride and delight for their coach Rusty Porter.
There to give a rundown on proceedings of the tournament last weekend, Porter noted that the first to climb between the ropes in bout five - out of 22 on the card - was the youngest fighter the club took to the event, 12-year-old Chen from Kerikeri, who came up against Bocky Blackburn of Rotorua.
Noting the 53kg Chen had beaten Blackburn in a fight three months prior, Porter said: "I had to tell Kyle to slow down a bit and do some ring time, with Kyle hitting Bocky at will and winning by unanimous decision."
Next to get in the ring was 16-year-old Hodges who weighs 66kg, also of Kerikeri, who faced off against Matt Wickliffe of Te Aroha Boxing in bout seven.
The bout eventually resulted in another unanimous decision in favour of a Far North pugilist.
"Both fighters had experience but Blake was too elusive for Wickliffe to hit him and dominated all three rounds."
Last man out for the Kaeo Boxing Club was Kriel of Kerikeri - 17 years old and 89kg - in bout 21, up against Shaun Chapman of Te Aroha Boxing who had three fights and three wins to his name.
"Zander was nervous but kept hitting Chapman with nice straight crisp right hands," said Porter, adding Chapman won the first round but Kriel took the second, with the third also going in his favour by split decision.