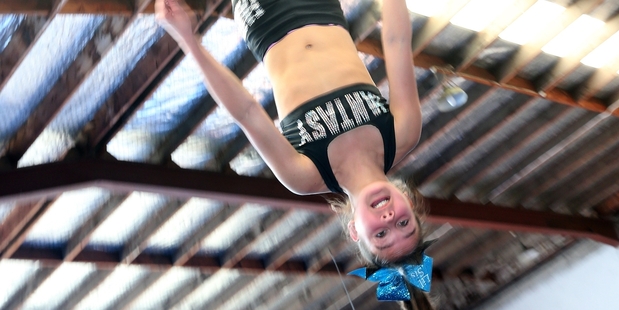 A world champion gymnast, tumbler and cheerleader has taken a young Whangarei cheerleader under her wing.
American Kristen Steingruber is world-ranked in both gymnastics and cheerleading, with titles including 2013 world champion tumbler, cheerleader and junior Olympian under her belt.
She's currently in New Zealand as a coach for Auckland-based All Star Cheerleaders, where she met 11-year-old cheerleader Grace Hegh.
"She has lots of potential - she literally reminds me of myself when I was younger," said 22-year-old Steingruber.
"She has the same goals as I once did. Her dream is to be on the Californian team I was on [California All Stars International All-girl].
That end goal isn't far.
"The future looks bright for that little one. She's definitely my little protege," said Steingruber.
The pair are competing together in the duo division at this weekend's Twisted Mega Nationals at Auckland's ASB Stadium. Twisted is a US-based competition that is being held in Chicago the following week.
They hope to have as much success as Hegh had - coached by Steingruber - at the Australasian Majors, a recent international competition.
Hegh won the individual cheerleader component, tumble competition, up-and-coming cheerleader 12 years and under and star of the day for the New Zealand Development Squad.
Hegh says she's "ecstatic" about winning the titles, particularly because she had a strained Achilles tendon and the atmosphere was nerve-wracking.
"Three people threw up back stage," she said.
It was a huge honour for her to be called several times to the winners' podium. "The whole time I could hear my mum [cheering]," Hegh laughed.
Her mother Andrea Hegh is very proud of her daughter's achievements. "And meeting Kristen [Steingruber] has been the best experience for her."
"I'm always extremely proud of her," Andrea said.
"She's just going from strength to strength. Last year I was blown away - this year I'm gobsmacked. We had so many people come up to her at the Majors and asking for a photo."
Hegh has also taken to the catwalk recently at a fashion show in Whangarei to raise funds for suicide prevention and is modelling at a fundraiser for child cancer in Auckland next month.