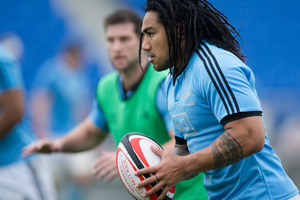 The Blues has announced that Ma'a Nonu has signed with them for two years, essentially filling the gap left by departing Taniwha Rene Ranger.
The 31-year-old Nonu, who played for the Highlanders this season, will return to the team he played for in 2012 and then walked out on a handshake deal before last season.
Despite the history, Blues coach Sir John Kirwan welcomed Nonu's return to the Auckland based franchise.
"Ma'a has been in brilliant form for the All Blacks and we're thrilled to welcome him back to the Blues.
"He's one of the best midfielders in the world so to have someone with his abilities is a huge asset to the squad."