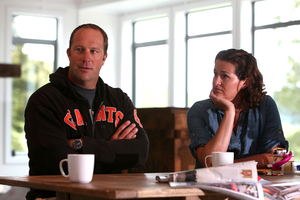 Northern Advocate sports editor Cameron Leslie talks with Team NZ member Chris McAsey and his wife, Suzy, about that race, and the other important things in life. Michael Cunningham took the photos
SIPPING on a morning cup of tea at his newly built Glenbervie home, Team New Zealand grinder Chris McAsey is a long way from San Francisco - much to his delight.
During the America's Cup McAsey and his family - wife Suzy and children Brooke, 5, and Billy, 2 - lived on the 11th floor of an apartment building overlooking the race course on San Francisco Bay.
To most, McAsey admits, the view would have been out of this world. But, come the end of the heartbreaking race campaign, the burly grinder and his family were a little over it.
"I'd sit there on the couch looking at the view and thinking of racing. And, after the Artemis accident ... I could see where it happened, I couldn't sleep at night."
The 40-year-old says thoughts of returning to Whangarei - where his new home was being built while he was slogging it out on the water - often kept him going on those tough days as the America's Cup challenge came to a close.
"It's just bliss coming back here. It keeps you going through it all. You think 'I'll be back here with my family', which keeps it in perspective.
"We were in a high-rise building which the kids struggled with a bit, so they ended up just watching TV. Suzy did a good job with keeping them busy, she had a bit on," McAsey concedes, as though his shoulders hadn't been holding up the hopes of a nation.
Suzy says she didn't do anything special, rather just dealt with the situation in front of her. The novelty of living in an apartment had soon worn off.
"I did my best. Everything was just a little bit harder, like you have to do your washing down in the basement [and] when you're getting groceries you're going to the supermarket with the stroller and kids and they're saying 'I'm tired'.
"But, it was an amazing experience, Brooke has just grown in confidence."
Living away from the coastline in the quiet surroundings of Glenbervie - with plenty of space, Suzy's parents next door, the tree where the couple got engaged out back, and the setting where the couple married beside the house - is no accident.
McAsey, a keen outdoors man as you would expect, says not being next to the water was a ploy to get away from sailing and instead enjoy pottering around the home.
"I love the water but, it's just, especially when you're doing it [sailing as an occupation], it's so cool to come home.
"It's nice to wake up and not care what the weather is doing."
Rewinding about six months, when McAsey left for San Francisco he knew challenging for the America's Cup was going to be tough physically but thought the emotional challenges were over. For 18 months beforehand he's trained fulltime in Auckland. Leaving his wife and kids early on a Monday morning was consistently one of the hardest aspects of that training.
"Especially with Billy [now 2] changing so often. I was away doing a regatta when she was born two weeks early so I missed that, then had three weeks home and then I [went] fulltime in Auckland.
"It's bloody hard but it gives me motivation. I don't want to look back in a year or two years' time knowing I missed all that time with my daughters and still didn't get what I was trying to do. But that's sport, you never know what's going to happen, you give it everything."
And give it everything he did. The disappointment of not achieving what McAsey and his Team New Zealand teammates set out to do is put simply by the grinder: "We were gutted. Absolutely gutted we didn't win. "I'd go so far as to say we deserved to win. When we didn't, at the end of the day there was nothing else we could have done.
"The frustrating thing [was] everything they did, we taught them how to do. Right back to when they were in Auckland and that guy spied on us, and said [to Oracle] 'right we've got to foil if we're to beat these guys'. Then we nailed foiling jibes, they nailed them. We started foiling upwind, and we got a massive jump on them. And, then, all of a sudden they flicked a switch, so to speak.
"We had a week to 10 days between the Louis Vuitton and the America's Cup, [and] these boats are just so draining. You don't just go out and clown around and then race hard when you need to.
"We were doing it for about five weeks in the end, so physically it was so hard but you just don't let yourself [think about it]. You tell yourself you feel fine but when the regatta finishes you just fall apart and feel the injuries you didn't know you had.
"That was the interesting thing, it was stressful, it felt like going out and doing a test match every single day."
There had been a high level of public and professional support throughout the build-up and the racing, including at a local as well as national level. Jon Renes, a top strength and conditioning trainer who worked with him in Whangarei and Glenbervie School, where Brooke goes, re-arranged the bell timetable so the kids could watch the racing and support the family.
After racing finished, the team thought they would be hung out to dry by the New Zealand public. Instead, the Kiwi public celebrated their efforts with a heroes' welcome in Auckland last week. McAsey says it made the loss just that little bit easier to deal with.
"We were more critical of ourselves than anyone, so to come back to that welcome was unbelievable."
While some athletes aren't fans of reading media while away, McAsey enjoyed knowing the country had got behind them. Suzy says she had been aware of the support but did not realise the extent until she came home before the final race.
"It just made me realise it almost wasn't about us," McAsey says. "We always assumed that if we didn't win there probably won't be a Team New Zealand anymore. I don't know what the future looks like, but it's certainly not as bleak as I thought it would be coming back not winning."
As for what happens now to an out-of-work America's Cup grinder, McAsey says it's a case of grieving before deciding what the next journey will be. He hasn't altogether discounted the thought it might be time to make a career change.
McAsey repeats a quote he heard years ago that it was harder to get out of the America's Cup than to get into it.
And he's been in it for a tough few years now.
"I wake up and wonder when I'm going to start training. I'll give it a couple of weeks relaxing and ease back into it," he says.