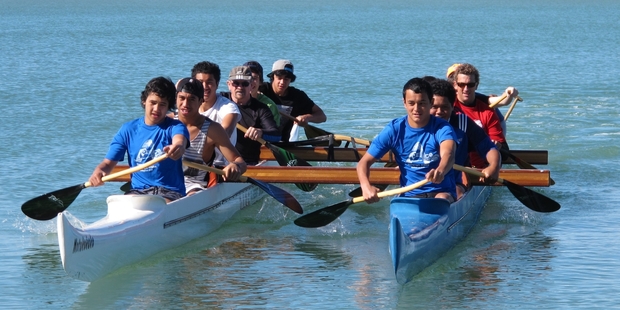 Far North waka ama enthusiasts are about to paddle 120 kilometres to raise money for a school in Rarotonga.
Saturday's dawn-to-dusk marathon by Kaihoe o Ngati Rehia waka ama club, based at Te Tii, will see two six-seater waka set out from Te Tii for Motukokako/Hole in the Rock at first light, weather permitting, then returning to clock up the rest of the 120 kilometres, possibly including circuits around Urupukapuka Island and up the Waikare Inlet.
The club is aiming to raise money via pledges to equip Nikao Maori School in Rarotonga with a set of computers or iPads. Club members have also been collecting books to fill the school library's empty shelves.
The project began taking shape after the club, which had already staged an epic fundraising paddle, contested a waka ama competition in Rarotonga, club members visiting the school and seeing the need for books and IT equipment.
Organiser Rob Cameron, a youth constable with the Kerikeri police, said experienced kaihoe would be expected to paddle six-hour shifts. Younger and less experienced members would be shuttled out to the waka for shorter stints. The waka would not return to shore until the marathon was complete.
The club's book-collecting drive had also been well supported, he added, with large quantities of picture books, educational materials and toys donated.
The owner of the new ITM hardware store in Haruru Falls was providing free shipping of the books, using space available in shipping containers carrying water tanks to the Cook Islands. The Kerikeri Rotary Club was planning to contribute to the fundraising effort, and was also considering providing each child with a dictionary.
Last year club members completed a three-day paddle from Maitai Bay to Whangarei, as a fundraiser and a training/bonding session for young paddlers.
The club has been credited with turning around once troubled youngsters, some of whom now compete internationally. Its founders, Danny and Tuppy Kaiawe, were recognised last month with Far North District Council Citizens' Awards.