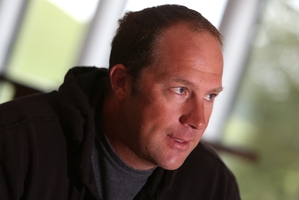 Northland grinder Chris McAsey has dispelled any speculation that he will be poached by another crew if he was to put his hand up for the next America's Cup challenge.
While another challenge is still very much up in the air, McAsey pledged loyalty to Team New Zealand if it was to happen.
"I haven't decided, it's been such a tough few years. You can't do it for the pay packet, it's too hard," McAsey said, before adding that it would also depend on what boats were being used. "There are so many unknowns.
"I can't imagine myself saying 'no', given the opportunity if they'll have me back. I just need some time to chill right now. Physically, I know I could do it, but I just need to make sure I'm into it mentally before you commit because it's too hard if not."
Last week, Team New Zealand skipper Dean Barker said a decision about the team's involvement in the next America's Cup challenge had to be made soon, before sailors were poached by international crews.
Barker told Campbell Live there was a "very small window of opportunity" to secure funding for the next campaign, and that "the vultures were already circling" to poach Kiwi crewmen.
"Without the money to be able to get going again very quickly, we lose the people. Without the people, there is no Team New Zealand and I think we know that this team can be successful.
"The team is so much stronger than it has ever been. Team New Zealand in my opinion needs to continue ... but, if we don't act, it won't be able to continue.
"It's tough. You're trying to gather yourself after everything that's happened and the vultures are already circling."
Barker said he would cherish another opportunity to work with the team, but decisions about its future had to be made soon.
"We're in a process or a stage now where decisions have to be made to allow the team to continue because we have already had guys targeted by other teams ... if we start losing people now it won't have the ability to carry on."
However, McAsey does not seem to be fazed about poachers, instead adding that he has been pleasantly surprised by New Zealand's reaction to the loss.
McAsey said he was not as worried about the future of New Zealand sailing as he was before leaving five months ago for San Francisco.
"We always assumed, that was our mindset from the beginning, if we don't win there probably won't be a Team New Zealand anymore.
"I don't know what the future looks like, but it's certainly not as bleak as I thought it would be coming back not winning. I thought it'd be a lot more bleak than it is."