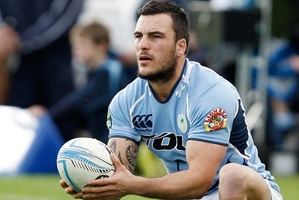 Look for a hearty performance against Otago at Toll Stadium tomorrow night as the Taniwha aim to please their supporters.
With Northland struggling along at the bottom of the Championship table, one point behind North Harbour, manager Brad Te Haara said the team were keen to repay the support they had received this year.
"The coaches talked about it [the supporters] at Manawatu," Te Haara said from team training on Monday. "And that it's time to do it for our supporters, friends and fans.
"A number of the guys talked about it [also at Manawatu], including Rene [Ranger]. We've got two home games and the boys really want to give back to their supporters."
Northland will need to work hard, as Otago will be searching for a win to snare a home semifinal.
Te Haara added that while Northland were out of the playoff race, their fans were a major motivation.
"We're unfortunately out of the top four. They just want to put a performance on for the fans and give back some of that loyalty.
"We're at tipping point, we have been all season really, if we tip over and get that win we'll start to play some good rugby.
"They just owe it to the supporters and the fans, from club season [fans] right through to the union investing in local boys."
While frustrated at not coming away with a win against Manawatu, Te Haara said tomorrow's match was about focusing on what the Taniwha were trying to achieve.
He reinforced that if Northland could eradicate the unforced errors and hold on to the ball, then they could start playing rugby how they wanted to.
Te Haara said the players' wanting to perform for the fans was a flow-on from the Northland Rugby Union's local player policy.
"The boys themselves know it's one tack for the union to go local but, as a player to be picked as a local, they know they have to front up too."
Tomorrow's game kicks off at 7.35pm. Northland also play at Toll Stadium on Saturday, against Bay of Plenty at 5.35pm, in what is their final game of the season.
Northland: Ross Wright, Matt Moulds, Bronson Murray, Tom Murday, Bryce Williams, Roy Griffin, Dan Pryor, Jake Paringatai, Mac Sykes, Ben Seymour, Mateo Malupo, Viliami Tahitu'a, Rene Ranger, Whiria Meltzer, Matthew Wright. Reserves: Robbie Abel, Will-Griff John, Dave Morgan, Ben Berridge, Tane Takulua, Dan Hawkins, Derek Carpenter.