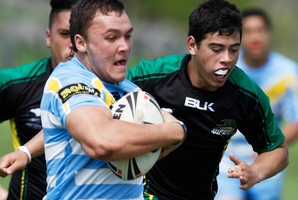 Mathematically, the Northern Swords 17s side have every chance of making the final if they beat the Wellington Orcas at Hikurangi tomorrow. But they need to turn up within the right head space.
While the Swords have already had a successful season, winning three games in a row after previously having notched up only a single win, Rugby League Northland general manager Alex Smits says they will not stop there.
"Already we're 300 per cent up on where we were [last year] with our 17s," Smits said. "The season has been a success already, but that's no reason to sit back and pat ourselves on the back.
"If we turn up with self-belief we'll do it, a few of our boys lack a bit of self-belief and then everything capitulates and breaks down."
Last weekend the Swords lost their unbeaten record this season, going down in a heap 62-8 to the Counties Manukau Stingrays, which has put the heat back on the Northlanders.
"We were totally outclassed by Counties," Smits said after their game on Sunday.
"We played poorly at times and lost our bundle. Once they got the momentum on us we didn't know how to get back in there."
However, Smits added that, after a strong couple of trainings this week, Wellington should be wary of the young Swords players.
"Wellington are definitely realistic [to beat], although they have a big physical team. [But], we need to control the ruck.
"I hate saying the same thing, but counties pillaged us there. And, it's just because they can't control the ruck. If you're not controlling the ruck they get momentum up and our heads drop, and we don't know how to get it back. Last weekend was a big wake-up call for them.
"I honestly believe our crew is as good as anyone out there."
Smits wants Northlanders to get behind the 17s side as this weekend's match is the last of only three home games for the Swords. With two rounds left in the New Zealand Rugby League National Competition, the 17s essentially need to win both remaining games as only the top two teams play off for the title.
The Swords Premier side play on Monday night at Mt Smart Stadium against Wellington in a match which will be televised live on Sky Sport at 7.30pm.
The 17s match kicks off tomorrow at 2pm.