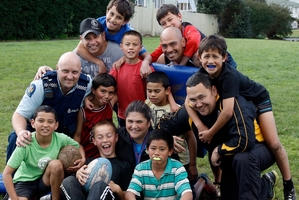 A team of young Northland rugby players and their families are already champions even before they kick off in New Zealand's biggest junior rugby festival in Taupo.
The City Under 10 side, from Otangarei, will square off against the best in the country today and tomorrow but their coach Marcelle Kaipo reckons they and their families have already won.
There are 3000 grassroots players taking part in the two-day competition, from 23 different unions and provinces, plus some overseas teams.
As part of the lead up to the Junior Rugby Festival the City team members and their families have been following a nine-week programme that has seen them receive nutritional advice and ban alcohol from their homes - as well as training hard.
"Our kids and whanau have accomplished so much already, this trip is a bonus and reward for them, really. It's been about trying to promote healthy living and making it a sports programme for the community, not just a rugby trip," Kaipo said.
But just quietly he hopes the side will also have a shot at the silverware.
The club has sent a team to the festival for the last two years. Kaipo said they have lost in the finals even though the team had to play up in an older age group.
This year they are in the right age group and have a core of experienced players.
"We are confident we can succeed but we don't want to pressure the kids. I'm confident we can represent our community with pride," Kaipo said.
Another coach and Otangarei Community Constable Darron Goodwin says the team has plenty of talent including two young girls who are lacing up their boots for their first Taupo tournament.
Goodwin, an accomplished Northland cricket player, has helped the team for the last two seasons and said the side came out on top in the Whangarei JB7 competition - winning every game this season.
An extra accolade was being voted by other teams as the fairest team in the grade.
"There are a few kids in this team that could go all the way to the All Blacks ... it's a matter of keeping them focussed."
Goodwin said life-long friends could be made through sports and this trip for the kids was a huge learning experience that would have positive ripple effects of their lives.
Fundraising had made the trip possible and the team, families and crew had taken a bus south and were staying at a marae.
On Monday a trip to Whakapapa Mountain was scheduled and for some it would be their first snow experience.
Thanks to a boot appeal run by The Whangarei Report and Northern Advocate members of the City team will be wearing boots donated in the appeal.
The appeal ran over winter and called for people who had boots they no longer used to drop them in to the Northern Advocate or the Northland Rugby Union.