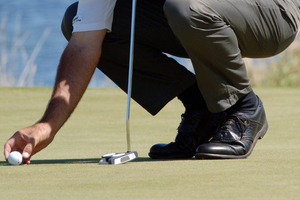 Former Northland golfer Sean Masters could not turn his dream into reality at the New Zealand Age Group Championships in Christchurch.
The former Kaitaia and Whangarei Boys' High School golfer, who now plays for Otago due to study commitments, fired a final round three-over-par 75 to finish with a share of fifth place.
Masters, 18, said last week he was keen to push for the title on Friday as it would be his last opportunity to do so.
He was the best finishing Northlander at the competition, out of men and women, with New Zealand amateur champion Kadin Neho next holding a share of sixth place.
Neho finished slightly better than Masters did on Friday, finishing with a two-over-par 74.
The next Northlander was Bay of Islands Kerikeri Incorporated golfer Taylor Gill one spot back in seventh.
Brooke Kingi of Whangaroa was the best finishing Northlander in the women's Age Group Championships at the Templeton Golf Club in Christchurch, in 18th equal.