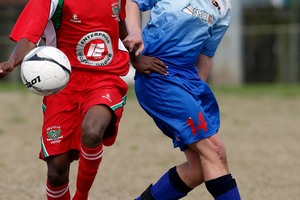 North Force let 65 minutes of hard work go as they conceded three goals in the space of six minutes during their 5-1 loss to Auckland's Melville United.
After being nil-all halfway through the second half, North Force went to sleep mentally as Melville snatched the opportunities presented to them by the youthful northern side in their last game of the season.
Assistant coach, and manager, Carl Compaan said the side performed admirably considering only two players are over 19-years-old.
"It is gutting to lose like that," Compaan explained after Saturday's loss at Kamo. "I feel we played very, very well, [especially considering] half of our team was away for secondary schools competition.
"A lack of experience and tired legs meant [Melville] scored three quick goals, that was a bit of a heartbreaker because we'd played very well. [But], being a young team it just happens."
Compaan said Joel Crawford was North Force's player of the day with his consistency in putting in a spirited performance.
Scoring North Force's lone goal, however, was Compaan's son Charl.
Compaan conceded that while it was not an ideal way to finish up the season, there were still plenty of things learned, which had come from blooding a new crop of North Force players.
"Result-wise [it has not been a success], but for developing players, yes. Some of these young players have come a long way.
"We're always hoping for results, but we were focused on more things than just the result," Compaan explained.
"[If you] look at the ages of the players, and to not be outplayed for such a period of time [on Saturday], I think there is a lot of potential for the young players coming through. If you look at development-wise then, yes, the season has been a success."
He added that despite the loss, his side had maintained a positive attitude in the sheds and were already talking about next season.
"They don't like losing, but they're already looking forward to next season. And, now they have a year's experience under their belt."
Next up for many of North Force's players is an under-19s tournament on Labour Weekend which will see them test themselves against players their age rather than adults like they have with North Force.
Meanwhile Kerikeri came close to claiming the Federation One Cup in Auckland, going down 5-4 to Te Atatu. More in tomorrow's Northern Advocate.